You got a gun up in your waist
Please don't shoot up the place
'Cause I see some ladies tonight
That should be havin' my baby
Don't you just hate it when some fool pulls a gun and starts shooting up your favorite bar just as you're about to make your move on a real fine lady? I know I do -- and so did Christopher Wallace, a/k/a Biggie Smalls, a/k/a the Notorious B.I.G.
Did all of you "Hip-Hop 101" students enjoy your holiday break? That's nice. But the holidays are over, and we're starting a new semester. It's time to get serious about school, boys and girls.
We cover Biggie Smalls in this class for two reasons. First, he is considered one of the greatest rappers of all time -- he could rhyme with the best of them, and no one was a better storyteller. His songs, which are full of swagger, usually involve sex, guns, and/or drugs. Biggie didn't make this stuff up -- he lived the life that he rapped about. (He started selling drugs when he was 12, was arrested on a weapons charge when he was 17, and went to jail for selling crack cocaine when he was 19.)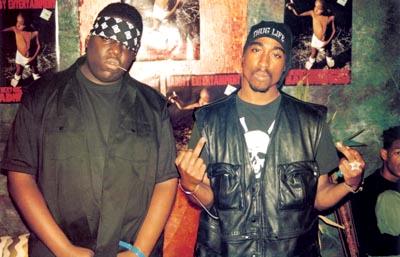 Biggie and Tupac used to be friends
Second, Biggie was a central figure in the great East Coast-West Coast hip-hop feud of the 1990s. Hip-hop was born in New York City, but by the early 1990s, West Coast rappers like Dr. Dre, Snoop Dogg, and especially Tupac Shakur had established hegemony over the world of hip-hop.
In 1993, Sean "Puff Daddy" Combs founded Bad Boy Records, a New York-focused hip-hop label, which quickly became the chief rival to Suge Knight's Los Angeles-based Death Row Records. Bad Boy's first big star was the Notorious B.I.G., whose 1994
Ready to Die
album was a big success.
The New York-Los Angeles rivalry heated up when Tupac accused Biggie and Puff Daddy of masterminding a 1994 assassination attempt on Tupac in the lobby of a New York City recording studio. Shakur was shot five times, but survived the assault.
Tupac later released the mother of all diss songs, "Hit 'Em Up," which is full of insults directed at Biggie, Puff Daddy, and other East Coast rappers. Among other things, Tupac says in "Hit 'Em Up" that he had sex with Biggie's estranged wife, Faith Evans -- "You claim to be a player/But I f*cked your wife." To make sure Biggie gets the message, Tupac makes his point not once . . . not twice . . . but three times. (Nothing like rubbing someone's nose in it.)

TMZ recently ambushed Faith Evans at an airport and asked her to compare Tupac and Biggie. (Sorry, but you'll have to sit through a lame commercial before you get to the good stuff.)



The Tupac-Biggie feud ended within months of the June 1996 release of "Hit 'Em Up." In September of that year, Shakur was shot while riding in a car in Las Vegas and died in a hospital ICU several days later.
Smalls was shot and killed while riding in a car late one night in Los Angeles in March 1997.
Here's an animated depiction of Biggie's murder:

"Big Poppa" is a classic Notorious B.I.G. song. Biggie weighed well over 300 pounds, but he had plenty of self-confidence when it came to the ladies:
And in the bed
Believe me, sweetie
I got enough to feed the needy
He was smart, too.
Who they attracting with that line,
"What's your name, what's your sign?"
Soon as he buy that wine
I just creep up from behind
And ask what your interests are,
Who you be with,
Things to make you smile,
What numbers to dial
Biggie lets the loser with the lame-o pickup line buy the lady a drink before he moves in. (In other words, the other guy buys the cake, but Biggie gets to eat it.) After that, it's just a matter of Biggie executing his plan. First, a late-night steak-and-eggs breakfast on the way to the hotel ("telly") -- on second thought, let's skip the telly and go to my crib instead. We'll roll a blunt ("smoke L's") and get high, then get down to doing what we came to do.
On the way to the telly
Go fill my belly
A T-bone steak, cheese eggs and Welch's grape
Conversatin' for a few,
'Cause in a few we gonna do
What we came to do,
Ain't that right, boo?
Forget the telly, we just go to the crib
And watch a movie in the jacuzzi
Smoke L's while you do me
You can see why Biggie's worried about some joker pulling a gun and shooting up the place -- that would really mess up his plans.
Here's "Big Poppa":

Here's a link you can use to order the song from Amazon: