Sitting in the back of a car
Music so loud
I can't tell a thing
Thinking 'bout what to say
I can't find the lines
Ford Madox Ford's tragic novel, The Good Soldier (1915), has a very famous opening line: "This is the saddest story I have ever heard."
In the world of popular music, the story of the band Big Star may be the saddest story I have ever heard.
Let's begin with the band's name. Lead singer Alex Chilton, guitarist Chris Bell, drummer Jody Stephens, and bassist Andy Hummel named their band after a chain of Memphis grocery stores, Big Star Markets. (During recording sessions, the group used to buy snacks at a nearby Big Star store.)
Big Star (circa 1971)
It sounds like the choice of that name was a fairly casual decision -- perhaps it was meant to be somewhat tongue-in-cheek. Or maybe the four knew deep down inside just how good they were.
Did the choice of names jinx the band? Did the gods of pop music frown on such hubris?
Big Star should have been big stars. They wrote and recorded songs that were as good as those of the great 1960s bands they've been compared to -- including the Byrds, the Beach Boys, and even the Beatles.
I think the most apt comparison is to the Beatles. I know, that sounds almost sacrilegious -- everyone knows the Beatles stand alone on the top of pop music's Mount Olympus. But if the Beatles had been from Memphis instead of Liverpool, they might have sounded very much like Big Star.
Big Star's first album was titled #1 Record. The ironies are really starting to pile up, boys and girls: Big Star should have been big stars, and #1 Record should have been a #1 record.
"#1 Record" album cover
The reviews of the album were very positive. Billboard said, "Every cut could be a single," which is exactly right. Rolling Stone said that #1 Record, which featured both reflective, acoustic cuts and powerful and sharp-edged rockers, was "exceptionally good."
But Big Star's record label, Memphis-based Stax Records, specialized in soul, blues, and gospel music, and seemed to be clueless when it came to marketing #1 Record.
Stax then signed a distribution deal with Columbia Records, which should have led to broader availability of Big Star's album. As the result of corporate politics, just the opposite happened. #1 Record never got any traction, and sales were shockingly poor.
Frustrated by the situation, the band's members turned on one another. Hummel punched Bell in the face, and Bell retaliated by smashing Hummels' new bass guitars to pieces. Hummel later saw Bell's acoustic guitar in Bell's unlocked car and went after it with a screwdriver. Bell quit the band once, came back, but quit again. He was a heavy drug user, and also struggled with depression.
The other three members of the group managed to finish the second Big Star album, Radio City, which was released in 1974. But just before its release, Hummel quit the band -- he was a senior in college, and decide to concentrate on his studies and live a more normal life. (He left one of the greatest American power pop bands to ever record an album to "concentrate on his studies"? That leaves me speechless. Things must really have been going badly for the band.)
Radio City sold only 20,000 copies -- once again, the reviews were positive, but the marketing support and distribution efforts were lacking.
(Did you notice the Kama Sutra poster in the background of this album cover?)
Chilton and Stephens went right back into the studio with a number of session musicians and quickly produced a third album. But the record's producer couldn't find a record company interested in releasing an album that has been described as "beautiful and disturbing" and "vehemently original." That was the end of Big Star for almost 20 years.
Slowly but surely, the band's reputation continued to grow. I probably learned about Big Star from an article in one of the underground Boston papers in 1975 or 1976, when I was in law school. I found #1 Record and Radio City in the cutout bin at a Harvard Square record store and snatched them up. That was one of the smartest record purchases I ever made -- those albums are amazing.
In 1978, Big Star's first two albums were released in the UK to general critical acclaim, and the third album -- which had never been officially titled -- was released in the US as Third/Sister Lovers. (Chilton and Stephens had been dating sisters when the album was recorded.)
Not long after that album was released, Chris Bell died in a car accident -- he was only 27. Chilton and Stephens reformed the band in 1993, toured extensively, and released an album consisting of new material in 2005. It received reasonably positive reviews, but there was no way the new album was going to meet expectations.
Alex Chilton died in March 2010 after being admitted to a hospital with heart problems. Andy Hummel died of cancer a few months later, leaving Jody Stephens as the only surviving original member of the band.
A very young Alex Chilton
A final word about Alex Chilton. Chilton got his start in rock and roll as the lead singer of the Box Tops in 1967, when he was only 16 years old. It's his voice you hear on their hit singles, including "The Letter" and "Cry Like a Baby."
Chilton co-wrote the songs on #1 Record with Chris Bell, and co-wrote the songs on Radio City with Andy Hummel. The songs on Third/Sister Lovers were primarily his. The contributions of the other band members shouldn't be ignored, but Chilton was the moving force behind Big Star.
It's shocking that Big Star isn't more well-known today. The band has been called "one of the most mythic and influential cult acts in all of rock & roll," and the groups that have acknowledged Big Star's influence on their music include the Posies, the Replacements, and R.E.M.
Peter Buck once said that R.E.M. had never made a record as good as Revolver, Highway 61 Revisited, Exile on Main Street, or Third/Sister Lovers. That's putting Big Star in the same league as the Beatles, Bob Dylan, and the Rolling Stones -- pretty good company.
But the only Big Star song that most people have ever heard is "In the Street," which was the basis for the theme song for That '70's Show.
Speaking of which, Laura Prepon was sooooooo hot. I used to have a HUGE crush on her. (Who am I kidding with this "used to" stuff? I still have a huge crush on her.)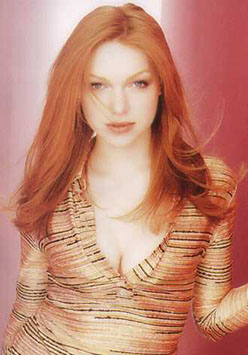 Laura Prepon
"In the Street" is a great song. But just imagine if most people only knew about the Beatles or Beach Boys because one of their songs had been used for a TV sitcom theme song.
I told you this was going to be a sad story.
Here's "Back Of A Car":
Here's a link you can use to buy it from Amazon: