Twinkies are the best friend I've ever had
I fought the law and I won
I fought the law and I won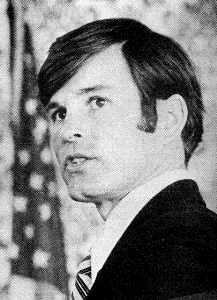 Dan White
On November 27, 1978, Dan White -- who had recently resigned from the San Francisco Board of Supervisors to open a baked-potato stand at Pier 39, a popular tourist hangout -- shot and killed Mayor George Moscone and fellow Supervisor Harvey Milk in their San Francisco City Hall offices.
The Dead Kennedys -- a hardcore punk band whose song lyrics were often political but always crazy -- formed in San Francisco the same year that White killed Moscone and Milk. I once heard someone say that the Dead Kennedys was only the 2nd-most tasteless name for a punk band -- the most tasteless name was that of the Austin, Texas band, Sharon Tate's Baby (which appears to still be performing).
The band's first (and most successful) studio album was titled
Fresh Fruit for Rotting Vegetables
, and included the songs "Holiday in Cambodia" and "California Über Alles."
"Fresh Fruit for Rotting Vegetables" cover
The second song took a satirical look at California governor Jerry Brown, depicting him as hippie neo-Hitler:
I am Governor Jerry Brown
My aura smiles
And never frowns
Soon I will be president . . .
Zen fascists will control you
100% natural
You will jog for the master race
And always wear the happy face . . .
Now it is 1984
Knock knock at your front door
It's the suede/denim secret police
They have come for your uncool niece
DIE on organic poison gas
Serpent's egg's already hatched
You will croak, you little clown
When you mess with President Brown
Brown was recently re-elected to the California governor's job, almost 30 years after he left that office in 1983. Proof is stranger than fiction, and don't let anyone tell you different.
Here's "California Über Alles."
The Dead Kennedys' original frontman called himself Jello Biafra. Biafra (born Eric Reed Boucher) ran for mayor of San Francisco in 1979. His campaign slogan was "There's always room for Jello."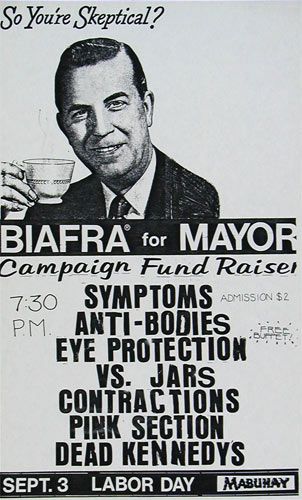 His campaign espoused a requirement that businessmen wear clown suits when within the city limits and the erection of statues of Dan White throughout San Francisco. There were nine mayoral candidates, and Biafra finished third with about 6600 votes -- almost 4% of the votes cast.
Biafra has remained active in politics. In 2000, he sought the Green Party's presidential nomination. Biafra and another candidate finished tied for 2nd in delegate votes at the party's nominating convention, well behind nominee Ralph Nader. Biafra actively supported Nader's 2000, 2004, and 2008 campaigns.
I lived in San Francisco from late 1980 to early 1982. During that time, Biafra co-hosted a punk-rock show on the Pacifica radio station in Berkeley. I used to record the show, and still have a few dozen cassettes of those shows that I really should get converted to computer files and listen to -- I imagine there are many obscure punk-rock gems on those tapes.
The Dead Kennedys' rewrite of "I Fought The Law" -- which turns the song's meaning on its head -- references Dan White's so-called "Twinkies defense." White's attorneys argued that he was not guilty of murder because he suffered diminished mental capacity due to depression at the time he killed Moscone and Milk. (This isn't quite the same thing as an insanity defense, but it close to it.)
White, a former policeman and fireman, was a fitness fanatic. The fact that he had started to consume a lot of high-sugar "junk" foods instead of sticking to his usual healthy diet was said to be one tangible indication of his depression. In addition, according to one of the psychiatrists who testified in his behalf, consuming such foods could have worsened his existing mood swings.
Sean Penn, Harvey Milk
The defense was not that White's consumption of sugary foods caused him to lose it and start shooting. No one ever mentioned Twinkies, but one reporter coined the term "Twinkie defense," and the public misunderstanding caused by that and other reporting from White's trial persists to this day. (The "Twinkie defense" is mentioned in
Milk
, the 2008 biopic that stars Sean Penn as Harvey Milk.)
The jury was persuaded by White's defense, and did not find him guilty of murder. He was found guilty of voluntary manslaughter and sentenced to seven years in prison. The Dead Kennedys' recording of "I Fought The Law" was released after White was paroled after serving five years of his sentence, when it appeared that he in fact had fought the law and won.
Au contraire. Less than two years after his release from prison, White committed suicide in his garage by running a garden hose from his exhaust pipe to the interior of his car.
Here's "Holiday in Cambodia," my favorite Dead Kennedys song. (The music is preceded by a brief scene from Apocalypse Now.)
Here's a live version of "Holiday in Cambodia" performed by the Foo Fighters and Serj Tankian of System of a Down:
That's pretty good, but nothing beats Jello Biafra and the Dead Kennedys: