I got a pit named Pea, she Nigerina
I got a house out in the hills right next to Chino . . .
Ain't nothin' but a gangsta party
I can't believe how much fun "2 or 3 lines" has turned out to be. Not very lucrative, unfortunately, because NO ONE IS CLICKING ON MY ADS -- but still fun.
Earlier this month, "2 or 3 lines" featured a guest post from Carl Wiser, the creator of Songfacts. Carl had e-mailed me some time ago and said something nice about one of my posts, so I asked him to pick a song and write something about it -- and he did.
After that, I decided to send a blind message to
the Rap Genius website
and ask if someone there would do a post for "2 or 3 lines."
Rap Genius is where you go if you can't figure out what a rap song means -- chances are they will have an explanation for you. Rap Genius is a very important reference tool for old white guys like me who are otherwise clueless about rap culture.
Here's a link to Rap Genius's "The History of Hip Hop."
Here's a link to another Rap Genius post of great interest to me: "Rap Genius LLP -- A New Legal Service for the Rap Community,"
many of whom have spent time in jail.
Much to my surprise, I got a prompt response from Mahbod Moghadam, the founder of Rap Genius:
Yooo wassup Gary, I'm the founder of Rap Genius.
This sounds like a great idea!
A few days later, Mahbod sent me the following explanation of why he started Rap Genius:
"2 or 3 Lines" asked me why I decided to convince my homies to decode the corpus of rap lyrics. One night, the Prophet Muhammad appeared to me in a dream, flanked by 2Pac and the Archangel Gabriel. After some dancing and fireworks, they said unto me:
"Mahbod! Um . . . am I pronouncing your name right? O Chosen One! You must build a site to explain rap lyrics to the Kafirs, that they may learn Wisdom from your exegesis."
The next morning, I was a man with a mission. I wanted to explain ALL OF RAP, line by line. I wanted people to click on a line and -- poof! -- an explanation pops up.
Don't get it twisted -- I'm not saying I didn't know anything about rap when we started the site. I know more about rap than anyone, basically. I love hip-hop, it's my religion. Rap is like Islam . . . but better.
But even a rap dictionary like me gets corrected here and there. The first explanation on the site was wrong! I was teaching Tom -- my genius white friend, good with computers -- about Killa Cam. He was confused by the line "80 holes in your shirt, they're your own Jamaican clothes." [Note: "Killa Cam" is a stage name used by Cameron Giles, a rapper who is also known as "Cam'ron." This line is from his 2004 song, "Family Ties."]
I told him Cam'ron was simply talking about Rastas wearing tattered up clothes, like your clothes would look if you got shot up.
At the time, I had no idea about this creepy fashion trend:
And that's why Tom and I made the site. So that we could learn more about rap, cause all we listen to is hip-hop (also you should've seen the way Pac's eyes shone as Muhammad spoke).
Stanford Law School
As I was looking for an online picture of Mahbod to embed in this post,
I came across this article on "Above the Law," a legal website.
It turns out the Mahbod is a 2008 graduate of Stanford Law School.
He was hired as an associate by a very large and prestigious law firm, but was offered a year off to do whatever he wanted if he would accept one-third of his current salary and promise to come back at the end of a year. (A lot of firms offered a similar opportunity to their new hires when the bottom dropped out of the economy in 2008 -- they didn't want to lose them, but also didn't want to have to pay them six-figure salaries when they didn't have enough work to keep them busy. So they offered them a reduced salary not to work for 6 months or a year.)
Mahbod used his time off to start Rap Genius. And he persuaded two Yale Law graduates he knew to quit their full-time jobs and help him. Here's what the "Above the Law" article had to say:
They're hoping to make more money from Rap Genius, once they start integrating advertisements. "On the one hand, I know it's a huge risk," said Moghadam. "It's hard to get a new business started."
But Moghadam points out that the business of providing lyrics is an undeveloped market on the Web — many sites are laden with spyware and flashing, annoying ads, in part because "lyrics is the most popular word searched on the Web after Facebook," said Moghadam. He claims that the leading lyrics site, Metrolyrics, makes $10 million a year, and they don't even offer exegesis.
Jay-Z
The site is run Wikipedia style, with new interpretations and definitions of lyrics invited from readers (though editors pick and choose the best of them). Lawyerly rap fans helped out with the interpretation of Jay-Z's "99 Problems," for example. We think Rap Genius is pretty cool, though the Daily Swarm was less impressed, saying it explains rap in "the whitest language possible."
Moghadam would love to get Dewey partners involved in the site in some way, since there are some there with music industry connections who could help the site take off. His dream would be to link up with music and entertainment partner Londell McMillan, who has repped Michael Jackson, Prince, Stevie Wonder, Usher, L.L. Cool J, Kanye West, Mos Def, and Russell Simmons, among others. "He's kind of a meme at the firm," explained Moghadam. "Everyone wants to get in with him."
He imagines spin-off sites for rock music, poetry and the Bible. "We're hoping to explain everything with cute little pictures and pop ups," said Moghadam. "That's what's cool about a recession. It frees people up to go off on tangents."
Let's get back to the song. Mahbod's e-mail also discussed one of the lines quoted at the beginning of this post, which is from a classic rap song I had never heard before -- "2 of Amerikaz Most Wanted" by Tupac Shakur (a/k/a "2Pac") and Snoop Doggy Dogg.
Here's a link to Rap Genius's commentary on this song.
Since starting the site I've learned the meaning of some curious rap lines from our crowd-sourced pool. "I've got a pit named Pea, she Nigerina" sounds so hard, but I was always afraid to rap it (because of the "N"-word).
When the song came on at parties, I'd be like "I got a pit named Pea, she hmm-hmm huh-huh."
But as the Rap Genius comment on this line notes, there was once a grand champion pit bull named Nigerino who was a very popular sire. (A number of breeders advertise their pit bulls as coming from Nigerino's bloodline.) Snoop's female pit bull -- which he calls "Pea" -- must be in Nigerino's bloodline.
Snoop Dogg and friends
"2 of Amerikaz Most Wanted" appeared on 2Pac's
All Eyez On Me
double CD, which was released in early 1996 -- just seven months before Shakur was the victim of a drive-by shooting while riding in a car in Las Vegas after attending a Mike Tyson fight at the MGM Grand. (After 2Pac was killed, his body was cremated, and members of his posse mixed some of his ashes with marijuana and smoked it. Now that's living the thug life, boys and girls.)
The
All Eyez On Me
album, which has been described as an unapologetic celebration of the thug life, is considered to be the masterpiece of 1990's rap. It was hugely successful -- it is a "9x platinum" album, which means that it sold 9 million copies.
Shakur was only 25 years old when he was murdered, but produced an amazing quantity of music in a short period of time. His parents were Black Panthers (his stepfather was on the FBI's "most wanted" list for four years), and he was accused in a number of crimes, but he was also a remarkably gifted musician.
Shakur is a major figure in the history of 20th-century popular music. Not knowing about 2Pac -- and I admit I didn't know much about him before researching this post -- is like not knowing about Elvis Presley. Even though both of them died years ago, they are still cult figures who have legions of dedicated, even obsessive fans.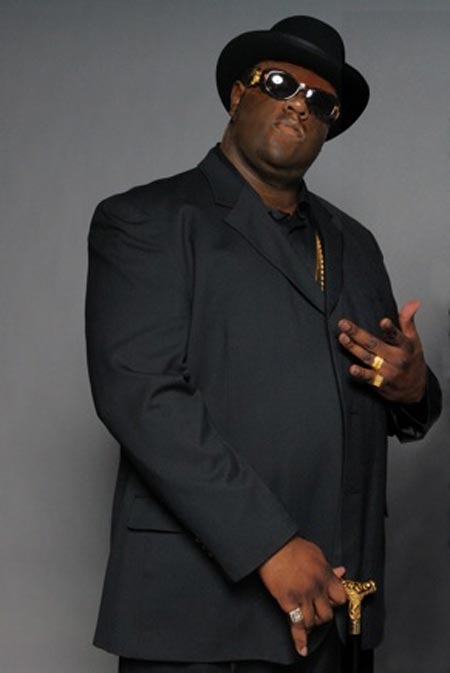 Biggie Smalls
To understand "2 of Amerikaz Most Wanted," you have to go back to 1994. Shakur -- who was on trial for sexual assault at the time -- was shot five times and robbed one night as he entered a recording studio in Manhattan. He suspected that rival rappers Sean "Puff Daddy" Combs and Biggie Smalls ("The Notorious B.I.G.") set him up. (A friend whom he also suspected of being involved was shot and killed the next year.)
The music video for "2 of Amerikaz Most Wanted" was filmed four months before 2Pac's murder. As the video begins, a wounded Shakur confronts two very nervous men he calls "Piggie" and "Buff Daddy," who beg him for mercy.
[WARNING: Some of you are likely going to find the language and subject matter of this song offensive. So proceed at your own risk.]
Here's how the song begins:
Ahh sh*t, you done f*cked up now --
You done put two of Amerikaz most wanted in the same
Motherf*ckin' place at the same motherf*ckin' time
Snoop Dogg had been charged with murder in 1993, so it's accurate to say that he and 2Pac -- who was no stranger to legal problems -- were, in fact, "two of Amerikaz most wanted."
Break out the champagne glasses
And the motherf*ckin' condoms
Have one on us, aight?
Ain't nothin' but a gangsta party
These lines are quite remarkable given that Shakur was incarcerated for eleven months after being convicted of sexual assault. He had allegedly sodomized a woman in his hotel room and then encouraged his friends to sexually abuse her. "2 of Amerikaz Most Wanted" was recorded shortly after he was released from prison.
2Pac refers to his 1994 shooting in the song:
They wonder how I live, with five shots
Niggaz is hard to kill, on my block
The video ends with 2Pac and Snoop celebrating as they drive away from a shot-up police van. The following words appear on screen -- "No police officers were harmed during the filming of this video" -- and there's a closing shot of a banquet table with a huge roast pig at its center.
Once again, my thanks to Mahbod Moghadam and his posse at Rap Genius. I'll be citing Rap Genius in future posts.

Here's the video of "2 of Amerikaz Most Wanted":
Here's a link to use if you prefer Amazon: