Relax, don't do it
When you want to sock it to it
Relax, don't do it
When you want to come
Before we get into this song, there's a
Venn diagram
I want you to see. It compares and contrasts TSA agents, doctors, and prostitutes.
I will never create anything half as funny as this. Who would have thought back in 9th grade that a Venn diagram could be put to such brilliant comedic use? I tip my cap to the man or woman who came up with this one.
"Relax" was released as a single in the UK in the fall of 1983, and was sitting at #6 on the UK single charts early in 1984 when a BBC DJ noticed the "Relax" record sleeve, read the lyrics, and pronounced the record "obscene." He pulled the record off the turntable in mid-play, and the BBC banned the song a couple of days later.
You can guess what happened, can't you? The record immediately went to #1 on the UK charts and stayed there for five weeks.
The music video for "Relax" -- it depicts a gay S&M club -- is a bit spicy:
"Relax" is featured in a very odd movie -- Brian De Palma's 1984 homage-to-Hitchcock thriller, Body Double. For some reason, this movie is always available as one of the free on-demand movies offered by my cable-TV provider.
Body Double has become a cult favorite, although I would guess that about 99% of the members of its cult are male. (If there are any women out there who really like this movie, I'm not sure I want to meet you.) It has a no-name cast -- Melanie Griffith is probably the best-known star in the movie, and she was not well-known when Body Double was filmed.
Melanie Griffith in "Body Double"
De Palma also cast Griffith in his 1990 movie, Bonfire of the Vanities -- much to his regret. After the exterior scenes were shot in New York City, De Palma gave the cast some time off for the Christmas holidays before resuming production at a Hollywood soundstage where the interior scenes were to be filmed.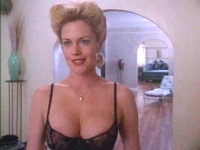 An "after" photo
During the break, Melanie decided to get breast implants. She showed up in De Palma's office, stuck them in his face, and asked "How d'ya like 'em?" De Palma and the rest of the crew was astonished that she could be so clueless as to dramatically alter her appearance in mid-shoot. Talk about a continuity issue . . .
I'm not going to get into the plot of Body Double, which is complicated and full of twists and turns (some of which don't make a lot of sense if you really think about them) -- I don't want to give anything away. But I do recommend the movie highly to those of you who aren't put off by movies that show beautiful women being assaulted by creepy guys with big-ass electric drills.
Big-ass drill from "Body Double"
Suffice it to say the male lead -- a fairly obscure actor named Craig Wasson (a Bill Maher lookalike) -- ends up appearing in a porn video with Melanie Griffith (a/k/a/"Holly Body"). "Relax" is the soundtrack to a scene from that movie-within-a-movie, which is shot like a stand-alone music video.
Deborah Shelton
By the way, if the brunette in the video looks familiar, her name is Deborah Shelton. She is a former Miss USA (1970) and is best-known for her role as Mandy Winger, who was one of J. R. Ewing's girlfriends on "Dallas." I don't think she ever appeared in another movie, although she did make guest appearances on a bunch of TV shows -- "Fantasy Island," "The Love Boat," "The A-Team," "T.J. Hooker," that sort of thing.
Here's the "Relax" scene from Body Double:
Here's a link you can use to order "Relax" from iTunes:
Here's a link you can use to order a DVD of "Body Double" from Amazon: