Roll away the stone
Don't leave me here alone
Well they rag me and they tag me
Don't leave me laying here
What will they do in 2000 years?
Everyone knows the game "Six Degrees of Kevin Bacon," right?
Leon Russell is sort of the rock and roll equivalent of Kevin Bacon.
This post kicks off a new series featuring songs by famous artists or bands that Leon Russell has performed or recorded with -- sort of a "One Degree of Leon Russell" game. (If we took things to a full six degrees with Russell, it would be overkill -- two or at the most three degrees is probably as far as we would need to go to include every musician worth including.)
Most of these songs also fit in my ongoing series of posts featuring records that were popular when I was in college in the early 1970's. So you're killing two birds with one stone, and it's not costing you a penny more. (Or I guess it's me that's killing two birds with one stone.)
Anyway . . . Leon grew up in Oklahoma and is a 1959 graduate of Will Rogers High School in Tulsa, which is also the alma mater of Anita Bryant, David Gates (the lead singer of Bread), Elvin Bishop ("Fooled Around and Fell in Love"), Susan Hinton (author of
The Outsiders
and other novels), and
our old friend Gailard Sartain -- better known as Dr. Mazeppa Pompazoida
.
Will Rogers High School (Tulsa, OK)
Russell started playing in clubs in and around Tulsa when he was 14. He and J.J. Cale (who wrote the Eric Clapton hits "After Midnight" and "Cocaine") played together in a group called the Starlighters, which is one of the progenitors of the mix of rockabilly and blues that became known as "the Tulsa Sound."
Russell was one of the first "Tulsa Sound" musicians to move to Los Angeles, and a number of his friends followed him and became successful session musicians. Russell backed up a very diverse group of recording artists in the early 1960's, including the Byrds, Gary Lewis and the Playboys, Bobby "Boris" Pickett ("Monster Mash"), Herb Alpert and the Tijuana Brass, and the Midnight String Quartet (an easy-listening chamber music group that released nine albums between 1966 and 1971). He was one of the group of Phil Spector studio musicians who served as the backing band for
"The T.A.M.I. Show" movie, which I discussed in an earlier post
.
Russell's first big success as a songwriter was "Delta Lady," which became a hit for Joe Cocker in 1969. (Russell headed up Cocker's band on the "Mad Dogs and Englishman" tour. A very entertaining documentary movie was made about that tour.)
That brings us to 1970, and Russell's eponymous (I do love that word) solo album, which includes his version of "Delta Lady," the very well-known "A Song for You," and the song featured in this post -- "Roll Away the Stone."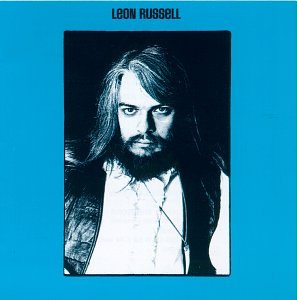 The musicians who appeared on this album are a rock and roll "who's who" -- I'm talking three Rolling Stones (Mick Jagger, Charlie Watts, and Bill Wyman), two Beatles (George Harrison and Ringo Starr), Eric Clapton, Steve Winwood, Joe Cocker, and a host of first-rate studio musicians (like Beatles' protege Klaus Voorman and Jim Gordon, who was the drummer for Derek and the Dominoes).
I'm familiar with this album mostly because my college girlfriend -- a graduate not of Will Rogers, but rather of Nathan Hale High School in Tulsa -- owned it. (Yes, she owned Carole King's Tapestry as well.) I'm not sure that this album was all that popular among my fellow classmates, but it was sure popular with her. And since I spent a lot of time with her, I heard it a lot.
I remember when the comic strip "Doonesbury" started to appear in the Rice student newspaper, the
Thresher.
Although Garry Trudeau (who started to draw "Doonesbury" when he was a Yale undergraduate) was a very hoity-toity New Yorker, the character the strip was named for -- Mike Doonesbury -- came to Yale from good old Tulsa, Oklahoma.
Mike was terribly embarrassed when his high-school girlfriend showed up at Yale for a visit wearing bib overalls and a straw hat. I thought that was soooooooo funny, and I made fun of my Tulsa girlfriend for months after that "Doonesbury" appeared.
Can you believe the nerve I had? I was from
Joplin, Missouri
, for cryin' out loud -- where did I get off making fun of someone from Tulsa, which was much bigger and much more cosmopolitan place?
The verses to "Roll Away the Stone" tell a fairly conventional I-caught-my-woman-cheatin'-on-me-with-my-friend story, but the chorus (quoted above) makes obvious references to Jesus Christ's death and resurrection.
I don't know what it all means. If you do, please let me know. But if you, I'm not going to lose any sleep over it.
Click here to buy the song from iTunes:
Click here to buy it from Amazon: