Out on bail, fresh out of jail,
California dreaming
Soon as I stepped on the scene,
I'm hearin hoochies screaming
Fiending for money and alcohol
The life of a Westside player
That first line isn't an exaggeration. The story goes that when Death Row Records CEO Marion "Suge" Knight bailed Tupac Shakur out of prison in 1995, Tupac went straight to a recording studio. The first single he released after getting out of jail was "California Love," which reached #1 on the Billboard "Hot 100" in early 1996.
A remix of the song appeared on Shakur's double album,
All Eyez on Me
, which eventually sold nine million copies.
Tupac kept his lawyers busy in the last few years of his life. In 1991, he filed suit against the Oakland Police Department, claiming that he had beaten for jaywalking.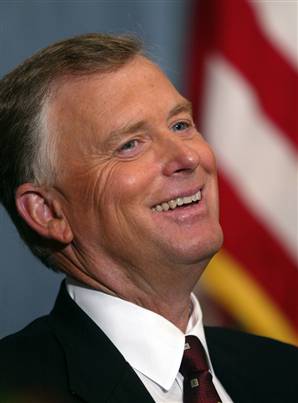 Dan Quayle
In 1992, a Texas state trooper was killed by a teenager who was listening to
2Pacalypse Now
, which included songs about killing police. Vice President Dan Quayle demanded that the record be taken out of stores. (Believe it or not, rumor has it that Quayle may appear on next season's "Dancing With the Stars.")
Later in 1992, after performing at an outdoor festival in Marin City, CA, he pulled his revolver during an argument, cocked it, and then dropped it. Someone picked up the gun and fired a shot. At about the same time, a 6-year-old boy who was riding his bike in the same neighborhood was killed when he was struck in the forehead by a bullet, but ballistics tests proved the bullet that killed him did not come from Shakur's gun.
In 1993, Shakur and some friends got into an argument with two off-duty policemen who were out with their wives. Shakur shot one of them in the buttocks and the other one in the back. Charges against Tupac were dropped when it was determined that one of his victims had lied to the police during the investigation.
The next month, Shakur and some friends were charged with sexually assaulting a woman in a hotel room. Shakur claimed the woman had given him oral sex on a club dance floor several days earlier, and that he was asleep during the alleged gang rape.
The night before the verdict in that trial was to be announced, Shakur was shot five times after entering the lobby of a Manhattan recording studio. He accused rival rappers Sean Combs and Christopher Wallace (a/k/a "The Notorious B.I.G." and "Biggie Smalls") of arranging the "hit," and also suspected that his friend, Randy "Stretch" Walker, was involved. A year later, Walker was shot and killed.
Shakur left the hospital only three hours after surgery, and was in court the next day in a wheelchair. He was found guilty of sexual abuse and sentenced to 1 1/2 to 4 1/2 years in prison.
Suge Knight
Tupac appealed his conviction but served 11 months in prison because he couldn't afford the $1.4 million bail. That's when Suge Knight stepped in and put up the money in exchange for Tupac's promise to record three albums for Death Row Records.
"California Love" was produced by Dr. Dre, who raps the first verse. The track is a rap paean to thug life, California style. Tupac and Dre shout out the names of several California cities -- San Diego, San Francisco, Oakland, Sacramento, Long Beach, Inglewood, and so on.
I'm sure Tupac did do a lot of California dreaming during his months in a New York prison. And I'm sure the hoochies were all over him, trading sex in exchange for drinks and drugs and cash.
Tupac's life as a "Westside player" ended less than a year after "California Love" was released. He was murdered while riding in a car in Las Vegas with Knight in September 1996. Biggie Smalls was shot and killed six months later.
Tupac with Suge Knight, moments before he was shot and killed in Las Vegas
Arguably the two greatest rappers of hip-hop's golden age, Tupac and Biggie were even bigger celebrities after their deaths. They usually rank high on the annual Forbes magazine "Top-Earning Dead Celebrities" list.
Here's one of the two official music videos for "California Love." This one, directed by Hype Williams, utilized some of the Mad Max sets. (Be patient. The song starts about 90 seconds into the video.)
Click here to buy the song from Amazon: