I'll give you something to live for
Have you, grab you 'til you're sore
Hello Daddy, hello Mom
I'm your ch-ch-ch-ch-ch-ch-ch-ch-
Cherry bomb!
Hello world, I'm your wild girl
I'm your ch-ch-ch-ch-ch-ch-ch-ch-
Cherry bomb!
I would have gotten around to this song eventually. But why am I writing about it now?
"Bridesmaids" poster
It all started when my daughter rented
Bridesmaids
last weekend. (By the way, I watched only a few scenes from that movie -- which I had heard mostly positive things about -- but what I saw sucked big time.)
There was a snippet of a very interesting song playing during the opening scenes of the movie, so I checked out the movie's soundtrack and found it that what I had heard was an old Blondie song, "Rip Her To Shreds," which was released on that band's eponymous (!) first album in 1976.
Deborah Harry
I liked "Rip Her To Shreds" right from the git-go, and started to do some research on the song, thinking I might feature it on
2 or 3 lines
. I learned that the song was thought by some to be about singer-songwriter-actress-publicist Cherry Vanilla (born Kathleen Dorritie), who also performed under the name Party Favor.
Cherry Vanilla got her start playing a necrophiliac nurse in the New York and London productions of an Andy Warhol play titled Pork.

Later, she became a publicist for David Bowie. She used some very creative strategies to promote Bowie's music -- for example, she offered to perform oral sex on an DJ who would play a Bowie record. Later, Cherry formed a band and released two albums. For a time, she was a regular performer at legendary the New York City punk club, Max's Kansas City. That's where Deborah Harry got to know her.
When I was searching for Cherry Vanilla songs on Youtube, I also got hits for "Cherry Bomb," a song that is one of many on the list of potential
2 or 3 lines
subjects that I carry around in my head (where it takes up space that I could be using to remember much more important stuff -- like my new work computer password, which must be changed every month, can't be the same as any of my previous three passwords, and must include at least one uppercase-font letter, one number, and a punctuation mark or other symbol).
I guess that explanation didn't exactly take the shortest path between two points, but now you know why I'm posting about "Cherry Bomb." (However, I'm not going to forget about "Rip Her To Shreds" and Cherry Vanilla's music. I've stuck them in my pocket for the time being, but will pull them out another day when you least expect it.)
If you were in a coma during the late 1970s and missed the Runaways, they were an all-girl rock band that never hit it that big in the U.S., but became a sensation in Japan thanks to their 1976 hit, "Cherry Bomb."
The Runaways
The band was co-founded by guitarist Joan Jett. Lita Ford (who had a reasonably successful solo career after the Runaways broke up) soon joined the group, taking on lead guitar duties.
Next to join was lead singer Cherie Currie, who was what my late grandmother would have described as a "pistol." (Cherie had a twin sister named Marie, which is sufficient in and of itself to establish that their parents shouldn't have been allowed to bear children.)
After releasing their debut album in 1976 (eponymous, of course), the Runaways toured with big-time acts like Cheap Trick, Tom Petty, and Van Halen. They also shared the stage with punk bands like Blondie, the Ramones, and the Sex Pistols.


Each band member modeled her look on her musical idol. Cherie Currie patterned herself on David Bowie. Joan Jett's look was a cross between Suzi Quatro and Keith Richards, while Lita Ford's look and style mixed elements of Jeff Beck and Deep Purple guitarist Ritchie Blackmore. Bass player Jackie Fox's look was inspired by Gene Simmons, and drummer Sandy West's role model was Queen's drummer, Roger Taylor.
In the summer of 1977, the Runaways toured Japan. At that time, they were the 4th-most popular foreign musical act in the "Land of the Rising Sun." (Only ABBA, Kiss, and Led Zeppelin sold more records in Japan.) Their fans greeted them in a state of mass hysteria that Jett later compared to Beatlemania.
Cherie Currie's jacket from the 1977 Japan tour
That fall, Currie and Ford had a major catfight during a photo shoot, and Currie left the band. The group's manager left a few months later, and when Jett and other band members clashed over whether they should go in a new direction musically, that was the final nail in the coffin. The Runaways played their last concert on New Year's Eve, 1978.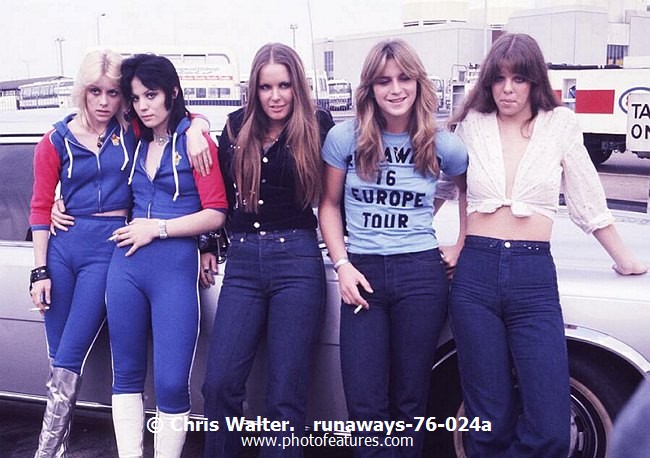 The Runaways were aptly named. They all looked like girls from small towns who rarely went to Sunday School and used way too much makeup, and who had hopped on a Greyhound bus headed for New York City or Los Angeles when they finally got fed up with their stepfathers groping them.
The runawayingest-looking of all the Runaways was Cherie Currie, who was not quite 16 years old when she auditioned for the band in 1975. "Cherry Bomb" was written for her, and the pairing of the singer and the song was a match made in . . . well, not exactly heaven, I suppose. All I know is that she could have had me and grabbed me until I was sore and I wouldn't have complained about it one bit.
Cherie on stage
Disagreeing with those who viewed the Runaways as a proto-feminist band who had helped open up the male-dominated worlds of punk rock and heavy metal to female musicians, one critic recently wrote that "it's doubtful that the predominantly male audience who flocked to see the 16-year-old [Cherie Currie] in her undies picked up any feminist subtext."
I second that emotion. "Cherry Bomb" is a great song -- perhaps the best song ever recorded by an all-female rock band. But I wouldn't deny that the fact that Currie sings it in her undies makes it even better. It certainly gave "Cherry Bomb" something that no song performed by Joey Ramone or David Lee Roth ever had.
French fashion maven Jean Paul Gaultier designed no fewer than 358 outfits for Madonna's
Blonde Ambition
tour in 1990. Here's one of the more famous ones:
I have a feeling that Cherie Currie only had the one outfit for the Runaways' tour -- she probably had to wash it in Woolite in her hotel-room sink after each night's concert and hang it on the shower-curtain rod to dry.
After leaving the Runaways, Cherie recorded a couple of forgettable albums with her twin sister Marie, appeared in a number of forgettable movies, and guest-starred in TV series like
Matlock
and
Murder She Wrote
. (While you're watching the video of Cherie performing "Cherry Bomb," try to picture her with either Andy Griffith or Angela Lansbury.)
Cherie Currie and one of her chainsaw creations
Today, Cherie Currie is a chainsaw artist in southern California.
Here's a link to her website
if you're looking for a personalized chainsaw-carved bear (or beaver or raccoon) that's three or four feet tall and you have a few hundred extra bucks to spend.
Enough chit-chat. It's time to start off year three of
2 or 3 lines
with a bang -- and what better way to do that than with the official music video for "Cherry Bomb":
Here's video of a live Runaways' performance of "Cherry Bomb" in Japan in 1977. OMG, OMG, OMG, OMG -- whatever it cost to buy a ticket to one of their concerts, it was a bargain even if they had only played this one song. These ladies can play, and Cherie Currie is un-be-lievable.
Currie's memoir --
Neon Angel: A Memoir of a Runaway
-- was turned into a biopic in 2010. Dakota Fanning played Currie, while Kristen Stewart of
Twilight
fame portrayed Joan Jett. (Tatum O'Neal played Currie's mother -- where have the years gone?)
Click here to buy the song from Amazon: