You don't have to feel like a waste of space
You're original, cannot be replaced
If you only knew what the future holds
After a hurricane comes a rainbow . . .
I promised myself that I would never feature a Katy Perry song on 2 or 3 lines.
She always seemed like the ultimate generic pop star to me -- a creation of the star-making machinery behind most pop songs (to paraphrase Joni Mitchell).
What changed my mind? A video that was shot in and around the post-tornado Joplin High School, which features not only Katy Perry's "Firework" but also the Black Eyed Peas hit, "Let's Get It Started."
The new Joplin High School
This video is no amateur production. I understand it was shot by Simon Jayes, who is a big-time Hollywood camera operator. (His credits include the latest James Bond movie, the latest Indiana Jones movie, and the latest Bruce Willis
Die Hard
movie.) It's about eight minutes long, with no cuts, and the camera never stops moving.
To be honest, the video starts off a little slow. The lip-dubbing itself is not particularly convincing.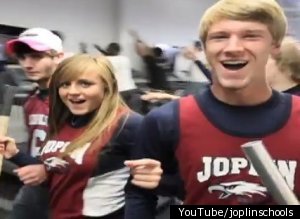 From the video
But the Joplin High School students who are featured in the video are just wonderful, individually and collectively. There are so many appealing kids here -- I have a 17-year-old son, and maybe the high schoolers in the video remind me of my son and his friends. Whatever the reason, I thought it was great -- especially the second half, which features the Katy Perry song.
It's not a great song -- like its singer, it's a very professional piece of work but pretty generic. But I'm happily suspending my critical judgment for the night. The song is perfect for this video and for these kids.
About five minutes into the video, you'll see a student named Quinton Anderson appear. (He's wearing a baseball cap and a number 6 football jersey.)
If you're from Joplin, you know all about Quinton Anderson. But if you don't know his story, I'll summarize it.
Governor Jay Nixon with Quinton Anderson
Quinton and his family lived a few blocks from St. John's Hospital, near where the tornado that hit Joplin on May 22 of this year first touched down.
Quinton's parents were among the 162 residents of Joplin whose died as a result of the tornado. He woke up in a hospital in Springfield with a fractured skull, three fractured vertebrae, and a long list of other injuries. He spent 5 1/2 weeks in the hospital, and had to learn to walk again.
Here's a short video featuring Quinton, who will carry the physical and emotional scars from the tornado for the rest of his life. But it's clear from the video
and from this article about him
that those scars will not define him. In the words of our song, he's an original, and cannot be replaced:
To commemorate the six-month anniversary of the Joplin tornado, here's the Joplin High School lip-dub video. It disappeared for a couple of weeks after I first saw it -- yes, the copyright Nazis had ordered Youtube to take it down -- but maybe someone sent a six-pack of the milk of human kindness to the soulless bastards in the record company's legal department. Or maybe it will disappear again -- but hopefully not until after you have a chance to watch it:



Here's a link you can use to buy "Firework" from Amazon. But if the video has been taken down again, please do not send a penny to Katy Perry's record company.