On the wayside
You see me standin' here
This voice will whisper in your ear


OK, OK, I admit it. I kind of phoned in that last post about Dr. Dre. But he was on the "Hip Hop 101" syllabus, so I couldn't just skip him -- even though the songs on The Chronic didn't really do much for me.

I promise this post is a lot better -- one might even say that it is a very special 2 or 3 lines.

Jack Dawkins was the chief boy pickpocket in the Dickens novel, Oliver Twist. He was better known as the "Artful Dodger," a term that is still used to describe someone who is good at eluding responsibility for his actions.
There's another writer who comes to mind when I think about Artful Dodger: Emily Dickinson.
Emily Dickinson
The "Belle of Amherst" wrote these words, which seem très à propos to Artful Dodger's career: "Fame is a fickle food/Upon a shifting plate."
Fame never smiled on Artful Dodger the way it smiled on so many others. Ever wonder why some musicians enjoy fame and fortune when others who are just as gifted languish in obscurity, appreciated by critics and a few perceptive fans but largely ignored by the rest of the world?
2 or 3 lines doesn't know the answer to that question. I bet you don't either, do you? I didn't think so.
Artful Dodger got their start in the Virginia suburbs of Washington, DC, in 1973. On the strength of a demo tape, they hooked up with Aerosmith's management firm and released their eponymous (of course) debut album in September 1975.
The first track on that album, "Wayside," is power pop of the first order, and still sounds pretty good today. I won't say Artful Dodger's body of work makes it a power pop band of the first order like the Raspberries (some phenomenal singles), Big Star (some phenomenal albums), and one or two others from that era. But they came pretty close.
What all these bands had in common was the innocence and sincerity of their music. There's not a mean or cynical or ironic note in their songs -- no hidden agenda. The singer bared his heart and his soul and trusted the world to treat him as kindly as he was prepared to treat it.
He was usually disappointed, of course. In these songs, things almost never turned out well for the singer and his girl, but he never stopped wishin' and hopin' to find love. The songs are often kinetic and upbeat as far as the music -- power pop songs aren't dreary ballads -- but there's rarely a happy ending.
I probably bought the
Artful Dodger
album on the strength of a positive review in one of the two free weekly papers that you saw everywhere in Boston in those years -- especially if you lived on or near a college campus.
Harvard Square, 1975
I bought a lot of records based on the reviews in those papers. Some of those purchases were winners, and some were not -- but there was no better alternative.
Artful Dodger didn't sell well. Neither did their next two albums, which were released in 1976 and 1977. The band released one final album in 1980. When it sank like a stone as well, they gave up.
For some reason, Artful Dodger was always popular in Cleveland, and in 1991 the boys got back together for a couple of reunion shows there. The reunion didn't stick, but they tried again in 2005, reuniting once more to play a concert in Cleveland. They continue to play in Cleveland every year or so, and recorded a live album there in 2009. It's as yet unreleased.
* * * * *
As noted above, Artful Dodger was released in the fall of 1975. I had just started my second year of law school.

All we really thought about that semester was interviewing. Shortly after classes began in September, representatives of law firms from all over the country started arriving at the law school's placement office to begin sniffing around for prospective summer hires.
The idea was that you would work at a firm the summer after your second year and if the audition went well, you'd get an offer of a permanent job at that firm after you graduated.


Interviewing season lasted until just before Thanksgiving, as I recall. Firms who were interested in you would fly your to their offices for a day of interviewing and perhaps a nice dinner with a couple of young partners and their wives. (I'm not being sexist here, folks -- it was 1975, and there weren't too many female partners in big law firms in those days.)
If you got horribly drunk and touched one of the wives inappropriately, you might still receive a job offer. But probably not if you showed up for your interview dressed in this suit:
I had actually managed to snag a summer job after my first year, so I was rather jaded by the whole interview experience my second year -- it was old hat to me. I remember that only spent about 3/4 of November on the road. I remember flying to St. Louis one Sunday, interviewing at two different firms on Monday and Tuesday, spending the rest of the week hanging out with friends, flying to Houston the following Sunday, interviewing with two firms there on the next two days, and then heading home for Thanksgiving.)
Aaahhh . . . those were the days. Law firms were rolling in the dough in the late 1970s, and that translated into lots of expensive and highly-caloric meals for us bright young whippersnappers. I had gone from a svelte 165 to a new personal best of 200 pounds during my first summer stint at a law firm in Houston, which gives you some idea just how few meals I actually cooked for myself that summer.
During my return trip to Houston my second year, the firm where I had worked my first summer -- they wanted me back, of course -- invited me to the Monday Night Football game between the Houston Oilers and Pittsburgh Steelers at the Astrodome.
This was back when
Monday Night Football
was a really big deal, with Howard Cosell, Frank Gifford, and "Dandy" Don Meredith in the broadcast booth. That night, the 7-2 Oilers were going up against the 8-1 Steelers.
The Steelers -- these were the Terry Bradshaw-Franco Harris-Lynn Swann-Jack Lambert-Mean Joe Greene "Steel Curtain" Steelers, who would finish the regular season 12-2 and go on to win Super Bowl X -- crushed the Oilers, 32-9, but it still would have been fun to go to the game.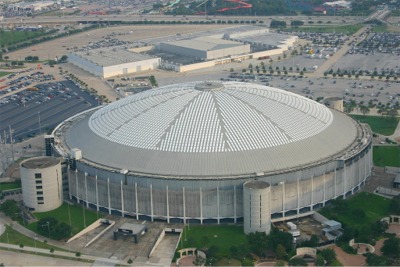 The Astrodome
But I had already scheduled a dinner that night with another firm, and firm #2 was really quite ungracious when I tried to beg off in favor of attending the football game with one of their biggest competitors. (I can't imagine why.)
To get a small measure of revenge, I asked a secretary from firm #1 to be my date for the evening and encouraged her to order the most expensive thing on the menu.
When I finally did return to law school, one of the records I probably listened to first was this one. Here's "Wayside":



(Sorry, but "Wayside" is not available from Amazon. You can make a copy from my LP if you'd like.)