I put my money in your meter, baby
So it won't run down,
But you got me in a squeeze play
On the cheesey side of town.
Throw me a line,
Show me a sign
'Cause there's a fat man in the bathtub
With the blues
I wasn't planning to post about two Little Feat songs until I noticed a billboard in the subway station nearest my office recently.
The billboard was one of a number that advertised Living Social, which is a "deal-of-the-day" service that e-mails discount coupons to some 40 million people a day. (Most of their offers seems to involve reduced-price massages, yoga classes, weekday comedy club tickets, and meals at restaurants that no one wants to eat at.)
A typical Living Social ad
Each of the billboards presented some obscure and mildly amusing fact -- like the fact that a quarter has 119 grooves in its edge. The one that inspired this post noted that President William Howard Taft -- who is believed to have weighed as much as 335 pounds -- got stuck in the White House bathtub on his inauguration day, and had to be pulled out by servants. (He had a larger tub installed shortly thereafter.)
This song came in a close second to "The Fan" when I was mulling over which Little Feat song I was going to feature on
2 or 3 lines
as part of my "Records I Listened to in Law School" series. Once I saw that billboard, I knew I had to do both songs.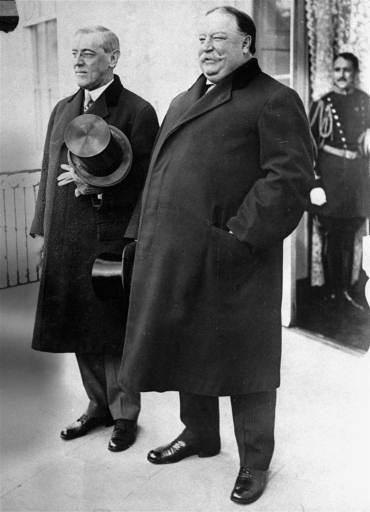 (Taft's the fat one)
Here's a live performance of "Fat Man in the Bathtub." (Lowell George has no clue where that first note was, did he?)
Here's a link you can use to buy the song from Amazon: