I'm the new Sinatra,
And since I made it here
I can make it anywhere,
Yeah, they love me everywhere
When the Yankees win at Yankee Stadium, they play Sinatra's "New York, New York" over the public-address system.
Jay-Z, Beyoncé
Everyone knows the lines from that song that Jay-Z is referring to above: "If I can make it there, I'll make it anywhere." And while Jay-Z has made it big in New York -- sitting courtside at Knicks' games with Spike Lee, cruising the Manhattan streets in his off-white Lexus with his hot superstar wife, Beyoncé Knowles -- there's at least one guy who's a bigger star.
That's Derek Jeter, of course -- the Yankee captain -- the man who once said, "In a perfect world, we'd all be Yankees."
They play "Empire State of Mind" every time Jeter comes to bat at Yankee Stadium. They played it five times yesterday, and every they played it, Derek Jeter got a hit.
Derek Jeter got his first major-league hit on May 30, 1995 -- my birthday. He got his 3000th hit yesterday -- also his 2999th, 3001st, 3002nd, and 3003rd hits.
That's right, he went 5-for-5 yesterday -- for only the second time in the 2361 regular-season games and 147 postseason games he's played for the New York Yankees. Only one of the other 27 players who has 3000 hits got his 3000th in a 5-for-5 game.
Jeter's 3000th hit was a 420-foot home run. Only one of the other 27 players who has 3000 hits got his 3000th hit on a home run.
Jeter watches number 3000 leave Yankee Stadium
Of course, no other player has ever done both. But nothing is less surprising than Derek Jeter doing something on a baseball field that has never been done before.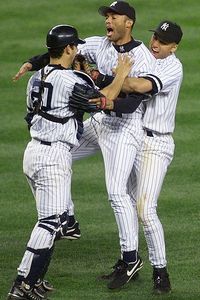 17 seasons
It was fitting that the first two Yankee players who greeted Jeter at the plate after his historic home run were Jorge Posada and Mariano Rivera. This is the
17th season
that the trio -- each of whom will end up in the Hall of Fame -- has played together as Yankee teammates. That has never happened in any other major-league sport.
The Yankees have overpaid the three to keep them together and to ensure that they will never play a game in any other uniform, which is one more reason that everyone should love the Yankees -- they understand that tradition and loyalty can be just as important to fans as hits and wins.
And did I mention that Jeter's last hit yesterday drove in the game-winning run in the 8th inning? (Actually, that was Jeter's 3188th hit if you count postseason games. Derek Jeter has more postseason hits than any other player in history.)
After the game, Jeter said that he was grateful that the team had won the game because "it would have been really, really awkward to be out there giving interviews and waving to the crowd after the game if we had lost."
That's a very characteristic comment. Jeter will probably be remembered by the casual fan as a player who came through in a lot of clutch situations. But he should be remembered first and foremost as the ultimate team player -- the guy who was never happy with his season unless his team won it all.
It's interesting that Jeter's father's first comment when he was interviewed after the game was "First of all, we needed a victory." Jeter's father -- who's a substance-abuse counselor -- played shortstop in college, and Jeter once said he always wanted to be a shortstop because "when you're a kid, you want to be just like your dad."
Derek Jeter with his mother, sister, and father
If you had asked me about Derek Jeter ten years ago, I would have said that he was a very good player, but probably a bit overrated. When you went to Yankees games ten years ago, you would see a lot of guys wearing Yankees jerseys or T-shirts -- many bearing the numbers of iconic Yankee old-timers (Mantle, Berra, DiMaggio, Don Mattingly), while others wore the numbers of contemporary players (Riviera, O'Neill, Bernie Williams).
Virtually all the women who came in Yankee shirts wore #2 -- Derek Jeter's number.
I was something of a purist -- I knew a lot about Yankee history, and I considered myself to know a lot about baseball statistics. Jeter's stats were good, but didn't match up to the all-time Yankee greats. So I refused to allow myself to get caught up in the virtual beatification of the Yankee shortstop for several years.
Eventually, I saw the light. Derek Jeter transcends his numbers (although his numbers are very, very good). His charisma, his performance in pressure situations -- most of all, his character and his decency -- are unsurpassed.
I was wrong about Derek Jeter -- he's not overrated. It's IMPOSSIBLE to overrate Derek Jeter.
In the famous 1978 one-game playoff between the Yankees and Red Sox, Hall of Famer Carl Yastrzemski popped out to Yankee 3B Graig Nettles for the game's final out. Nettles was a very accomplished player -- he played major-league baseball for 22 seasons, was chosen for the All-Star Game six times, and played in five World Series.
Yet how did he answer when a reporter asked him what he was thinking just before Yastrzemski hit that game-ending pop-up to him?
"I was praying, 'Please don't let him hit it to me,'" Nettles answered -- an answer whose honesty endeared him to all the ex-Little Leaguers like me who spent most of their time on the field saying the same thing to themselves.
Yankees celebrate Nettles' pennant-clinching catch
What makes Derek Jeter different from even most good major-league players is that he's never thought "Please don't let him hit it to me." As one of his former teammates said about him, "The thing that says Derek apart is that he's not afraid to fail."

Baseball is a game where even the best hitters fail most of the time -- as the old cliche goes, a .300 hitter makes out 70% of the time. But there's a difference between understanding that you will fail 70% of the times you bat over the course of a season, and being afraid of failing in your next at-bat.
Jeter once said this about his former manager, Joe Torre:
The last thing you need when you're not going well is to look over and see panic on your manager's face. With Joe, he always looks like he's in control. . . . [P]anic, that's something you'll never see from him.
The Yankee captain could have been speaking about himself.
And speaking of Joe Torre, he was at the game yesterday. "Derek Jeter shows up to work," he said later. "His ability is only a portion of what he brings to the game and his teammates on an everyday basis."
Torre's the manager who decided the 21-year-old Jeter was ready to be the Yankees' everyday shortstop -- he saw something special in the young player, and he was right. Jeter homered and made a couple of outstanding defensive on Opening Day of his rookie season, and the team went on to win the World Series that year, upsetting the heavily favored Atlanta Braves. Jeter was named Rookie of the Year:
One thing that has to strike you about Jeter's accomplishment yesterday is how his opponents reacted. The Tampa Bay first baseman, Casey Kotchman, tipped his cap to Jeter as he rounded first after hitting his home run. The Rays' brilliant young pitcher, David Price, left the mound and sat in the dugout during the post-3000th celebration -- he wasn't mad or upset, he just didn't want to intrude on Jeter's moment.
A tip of the cap
Terry Francona, manager of the Boston Red Sox -- don't get me started -- said that Jeter was still the same person he was as a 19-year-old playing in the minors when Francona first met him. "Always plays the game right, he always treats people right, and he tries to beat your brains out."
The tributes from sportswriters are rolling in, of course -- and they transcend the fact that he has 3000 hits. Here's what Jon Paul Morosi of Fox Sports had to say just before Jeter reached that milestone, when the haters were saying Jeter had lost it -- was showing his age -- that the end of his career might be within sight:
There remains some mystery about Jeter, in part because he hasn't stumbled in a manner that exposed personal flaws. He isn't Tiger Woods. He isn't Brett Favre. He isn't Kobe Bryant. He is an anomaly. Such is the state of our society that the more you mess up — see Charlie Sheen — the more interesting you become. Compared with those who blur the line between fame and infamy, Jeter is kind of boring. But his reward for solid citizenship has been steady speculation about his impending professional demise, because he's left us with no other avenue for criticism.
Derek Jeter has always made it look easy. But he admitted in his post-game press conference that the pressure to get number 3000 in front of Yankee Stadium fans this weekend had begun to wear on him. "I've been lying to you guys for a couple of weeks" about not feeling any pressure, he told reporters.
Jeter at his postgame press conference yesterday
Jeter's 3000th hit was caught by a 23-year-old fan whose girlfriend had bought him a ticket to the game. (Every guy should be so lucky as to have a girlfriend like that.) I can only imagine how much money that ball would have brought at auction, but the fan didn't ask for anything -- he just wanted to be able to present it to Jeter in person.
Click here to see what this fan had to say about his experience.
Mel Brooks (playing King Louis XVI) said, "It's good to be the king."
Well, it's good to be The Captain, too.
I'll close with a little quiz for you baseball trivia fans: what does Derek Jeter have in common with Barry Bonds, Roger Clemens, Rafael Palmeiro, Manny Ramirez, Mark McGwire, and Pedro Martinez?
Here's perhaps the most mind-blogging play in baseball history -- it saved a crucial 1-0 victory in the playoffs:
Here's the official music video for "Empire State of Mind." It's a great song, and a great video -- even if you're not a fan of New York City. And Jay-Z is a great rapper. But to claim, "I made the Yankee hat more famous that a Yankee can"? Spare me, Jay-Z.