Alabama, Arkansas,
I do love my ma and pa,
Not the way that I do love you.
Holy Moly, me oh my,
You're the apple of my eye,
Girl, I've never loved one like you

I'm posting about this song because it has whistling. (Go to the embedded music video at the end of the post and listen to it -- it's OK, I 'll wait. Hear that whistling right at the beginning?)
You may not appreciate this, but I don't just write these posts off the top of my head. I do a lot of research first.
When I was researching my J. Geils Band's "Centerfold" post a few months ago, I came across the
All Whistling Songs
blog.
As the title suggests, All Whistling Songs is all about songs that feature whistling. It debuted in July 2009, and has posts about some 270 different songs, including 113 from the US, 41 from the UK, 25 from Brazil (which is where the creator of the blog resides), and one each from Finland, Moldova, Nepal, and Norway (among others).
The man behind All Whistling Songs is Gustavo de Souza, a 24-year-old government worker from São Paulo.
Gustavo provided me with this brief bio:
I'm not married, I live alone. I'm not a musician, nor play any instruments.
I only have this blog. If I make another in the future, it won't be about music.
I drink a lot.
That's it!
I wanted to know more, and I bet you do, too.
São Paulo
So I e-mailed Gustavo some questions, and got these responses, which I am posting pretty much
verbatim
. (And before you laugh at Gustavo's occasionally shaky command of English, let me ask you a question: how good is your Portuguese?)
Q: Why did you decide to write about only songs with whistling?
A: I started to write about songs with whistling because I realized that in the whole internet (!) there wasn't anything like that. There are only top 10 lists or one page in this or that forum that has numerous replies with names of a few of these songs (which are one of my main sources, by the way). My thoughts were that it would exist a "compendium" about songs with whistling — one place where everyone could go to look for them (that disco song from 80's that someone cannot remember the name, that fresh new indie one that was played in some commercial on TV) and find out any sort of information about the song (for instance, its meaning, when it was released, why and even who whistles). Later, I discovered that there was one website that did the job I do now, "The Online Guide to Whistling Records," but it is offline since 2008.
Q: What kind of comments do you get from your readers? Have you ever been contacted by any of the performers you write about?
A: Well, because it's not a blog about personal views or even about music criticism, the few people who comment usually give me tips of songs that haven't yet been posted or solely thank me for doing it. But there is the other hand: I have been contacted by two musicians. The first time occurred when I was going to post about "Tea Break" by the obscure duo called Omo. The thing was that I couldn't find its lyrics, so I decided to send them an email. Hours later they answered . . . it amazed me! The latest (because of the same lack) was the Brazilian folk singer Nelo Johann, whose whistling song had appeared in an national independent film.
Q: Are you a good whistler yourself?
A: No! I'm not a good whistler! In fact, I envy the good whistlers! HAHAHA. Because I'm a huge fan of whistling! Only for you to sense it, there is a passage in "The Catcher in the Rye" where Holden Caulfield says that he envies his roommate because he could whistle charmingly and confidently. I have the exact feeling! Some of my friends have fun with the idea that I only maintain the whistling blog because I can't whistle very well. I'm still struggling with this idea.
Q: Is there anything you can say about the types of songs or types of performers that include whistling? For example, it is most common among American or non-American songs? Old songs or new songs? Certain types of songs?
A: I think pop bands/performers are the ones who most "abuse" of whistlings. And when I say "pop," I mean pop rock, pop indie, techno pop, etc. But it can only be because pop music is more embracing and notorious than others less known styles. And I go with the pop wave: I prefer to post about "The Lazy Song" by Bruno Mars than about some unknown old jazz group from Eastern Europe (much more people will want to know about the first example of whistling song). In fact, there are so many bands and artists with at least one song with whistling in their discography that we can figure out that making use of this device is a commonplace in music. Do you know that Elvis Presley whistled in one song of his first album? Michael Jackson, Jay-Z, The Clash, Björk, Helloween and even the Simpsons also recorded sometime some whistling song! One interesting thing is that hip hop performers predominantly use to do wolf whistles.
Q: What are the most well-known songs to feature whistling? What are your favorite songs that feature whistling?
A: Hmmm . . . so it's my turn to do my top 10 list? LOL. Okay, there is goes:
"Jealous Guy," John Lennon
"MX Missiles," Andrew Bird
"After It All," Cat Power
"One in a Million," Guns 'n' Roses
"Punky's Dilemma," Simon & Garfunkel
"Home," Edward Sharpe & the Magnetic Zeros
"Chicken Pox," I'm From Barcelona
"Esotérico," Gilberto Gil
"Dream River," The Mavericks
"Mellow Doubt," Teenage Fanclub
The most well-known songs to feature whistling are these ones which are already established in our culture, I think:
"Patience," Guns 'n' Roses
"Wind of Change," Scorpions
"Don't Worry, Be Happy," Bob McFerrin
"Me and Julio Down By Schoolyard," Paul Simon
"Dream a Little Dream of Me," Mamas and the Papas
"The Stranger," Billy Joel
"(Sittin' On) The Dock of the Bay," Otis Redding
And from movies:
"Twisted Nerve," Bernard Herrmann
"The Good, the Bad and the Ugly," Ennio Morricone
"Always Look On The Bright Side of Life," Monty Python (from "Life of Brian")
Bravo, Gustavo! Well done, my 24-year-old, single, alcoholic Brazilian friend!
I want all of you to click on this link and visit
All Whistling Songs
at least once.
You might discover a whistling song you really, really like. More importantly, if enough of you do this, it will prove to Gustavo (who will no doubt tell all his Brazilian friends) that
2 or 3 lines
is a force to be reckoned with in the online world!
The oldest whistling song that is featured on Gustavo's blog is from 1905 and is titled "The Whistler and His Dog." If you are as old as me, you might remember it because Buckwheat lipsynched (whistle-synched?) to it on "The Little Rascals."


Speaking of "The Little Rascals," I wish I had a watermelon. And I wish Cotton was a monkey.
The Edward Sharpe & the Magnetic Zeros song featured in this post, which was released on the "Up From Below" album in 2009, is one of the newer songs featured on All Whistling Songs.
Before Gustavo's e-mail, I have never heard of this band or this song. It's an appealing little ditty, and I'm a sucker for oddball songs that mention Arkansas, like "What'd I Say" by Ray Charles:
Tell your mama
Tell your pa
I'm gonna send you back to Arkansas
"Up From Below"
Here's what Wikipedia has to say about Alex Ebert, the main creative force behind Edward Sharpe & the Magnetic Zeros. (You can't make this stuff up, folks.)
After years of the Los Angeles party lifestyle and subsequent drug addiction, Ebert wanted to make a change. He broke up with his then-girlfriend, moved out of his house, and did a couple of stints in rehab. He spent a year sleeping on a blow-up mattress in a tiny apartment, disconnected from the world. This time alone left him to contemplate Edward Sharpe, his alter ego.
"I don't want to put too much weight on it, because in some ways it's just a name that I came up with. But I guess if I look deeper, I do feel like I had lost my identity in general. I really didn't know what was going on or who I was anymore. Adopting another name helped me open up an avenue to get back." Ebert developed Sharpe into a messianic figure, saying "He was sent down to Earth to kinda heal and save mankind, but he kept getting distracted by girls and falling in love."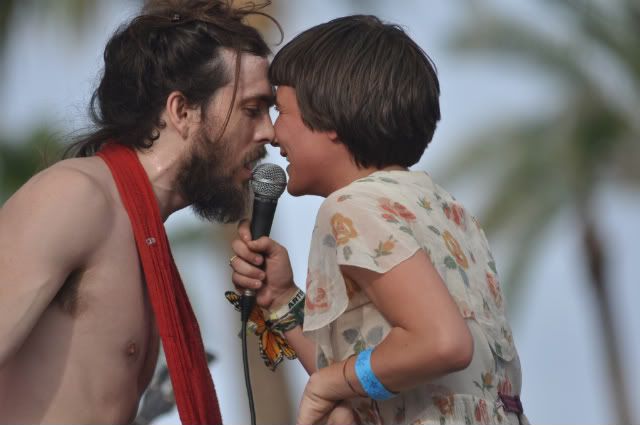 Alex Ebert and Jade Castrinos
One such girl was the singer Jade Castrinos, whom he saw sitting on an outdoor bench and immediately knew he needed to have a relationship with her. Their resultant affair formed the seeds of what would become Edward Sharpe and the Magnetic Zeroes. They started writing music together, and became a part of the art and music collective The Masses, which was partially started by some seed money from the late Heath Ledger. While their relationship did not last, the group took off in a big way, and their group soon swelled to more than 10 members, some of whom had been Alex's friends since he was young. By the summer of 2009, they were touring the country.
Here's the official music video for "Home":




Click here to buy this song from Amazon: