Years go by I'm lookin' through
A girly magazine
And there's my homeroom angel
On the pages in-between
My blood runs cold
My memory has just been sold
My angel is the centerfold
Imagine how the poor singer of this song must have felt when he learned that the girl he had a crush on in high school ended up being a centerfold!
And when I describe him as "the poor singer," I mean that because his innocent and unrequited love for his "homeroom angel" has been transformed into something sordid and carnal and dirty! :-(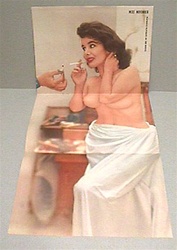 1956 Playboy centerfold
You're not buying that? OK, OK, what I actually mean when I describe him as "the poor singer" is that he is going to kick himself for the rest of his life for not jumping on that hot babe in high school, which would have allowed him to tell every guy he met for the rest of his life that "I PONED A CENTERFOLD! I CRUSHED IT!"
This post is obviously not a "Hip Hop 101" post. It's not about a song I listened to in law school, or a "Mystic Eyes" record. It's more of a stand-alone post -- not really part of one of those series that "2 or 3 lines" is famous for.
Although if we wanted to push the envelope a little, we could pair it with the Beastie Boys' "(You Gotta) Fight For Your Right (To Party)!" As you may recall, that song made reference to the singer's mom throwing away his best porno magazine. Believe it or not, I have plans to blog about a third song (part of an upcoming "Mystic Eyes" series) in which the singer is a young man who has a certain attachment to a particular porno magazine. Two's company, three's a series!
The J. Geils Band -- its original name was Snoopy and the Sopwith Camels -- was a very popular band in Boston when I was there for law school in the mid-1970s. This song, which was released in 1981 on the
Freeze Frame
album, was the group's biggest hit.
"Centerfold" went to #1 on the
Billboard
"Hot 100" in early 1982 and stayed there for 6 weeks. (This is just a guess, but I have a feeling that a lot more men than women bought the record.)
Angel Tompkins
The song may have been inspired by lead singer Peter Wolf's romantic involvement with actress Angel Tompkins, who had appeared in the February 1972 issue of
Playboy
. She was not the centerfold, but I doubt that bothered Mr. Wolf all that much.
Of course, Wolf (whose real name was Peter W. Blankfield) became involved with Tompkins after her "girly magazine" appearance. Tompkins was 3+ years older than Wolf, who (like Alex Rodriguez) had a thing for older women. (He was 5 years younger than his ex-wife, actress Faye Dunaway.)
Ric Ocasek
It was a good time to be a skinny, geeky lead singer. That description fit not only Wolf, but also Ric Ocasek of the Cars, another Boston band from the same era.
Unlike Wolf, Ocasek was not into older women. He met Sports Illustrated swimsuit-issue cover girl Paulina Porizkova in 1984 when he was 35 (and married to his 2nd wife) and she was 19. Ocasek and Porizkova were married 5 years later.
Porizkova and Ocasek:
I can't explain it -- can you?
Germaine Greer
By the way, the interview subject in the February 1972 issue of
Playboy
was futurist R. Buckminister Fuller. Other
Playboy
interview subjects in 1972 included
feminist Germaine Greer
, Russian author Yevgeny Yevtushenko, broadcaster Howard Cosell, Irish political activist Bernadette Devlin, Rabbi Meir Kahane (founder of the Jewish Defense League), and investigative reporter Jack Anderson. Which explains why I and all my college friends read
Playboy
every month.
One final note. The singer of "Centerfold" hopes to track down his old crush, take her to a hotel room, and recreate her centerfold pose in private. But I've got news for him. THAT IS NOT GOING TO HAPPEN! YOU BLEW IT, LOSER!
Before we get to the "Centerfold" music video, here's a brief clip from an old Love Boat episode where Meredith Baxter Birney is freaked out because she's afraid her fiancé will find out she posed for the centerfold of a men's magazine. This is so dated . . . especially Julie's disapproving "How could you?" and the lame explanation that Ms. Birney provides. (Sorry for the commercials that appear before this and some of the other YouTube clips in my posts, but I can't do anything about them.)




We came a long way between that Love Boat episode and "Centerfold."

Here's the wonderfully dated music video for "Centerfold." Perhaps the oddest thing about it is what the women in the video are wearing when they first appear -- black bras and white half-slips. Did women really wear half-slips back then?

I can't resist including this cover of "Centerfold" by Hayseed Dixie, a band that specializes in doing bluegrass/country-style covers of rock and metal classics. ("Hayseed Dixie" is a play on "AC/DC.")




Here's a link you can use to order "Centerfold" from iTunes:
Here's a link you can use if you prefer Amazon: