The name's Plug Two
And from the soul I bring you
The D.A.I.S.Y. of your choice
May it be filled with the pleasure principle
In circumference to my voice
About those other Jennys I reckoned with
Lost them all like a homework excuse
This time the magic number is two
'Cause it takes two, not three, to seduce
De La Soul's first and most successful album, 3 Feet High and Rising, was released in 1989, when gangsta rap was all the rage.
Remember how Seven-Up used to call itself the "uncola"?



De La Soul is the ungangsta rap group. Legendary music critic Robert Christgau said 3 Feet High and Rising was "radically unlike any rap album you or anybody else has ever heard." He described it as "playful, arch, often obscure, sometimes self-indulgent," but generally liked its "audacious eccentricity."
Other critics loved it as well, as did the public: 3 Feet High and Rising (a reference to the Johnny Cash song) made it all the way to #1 on the Billboard R&B/Hip-Hop Albums chart.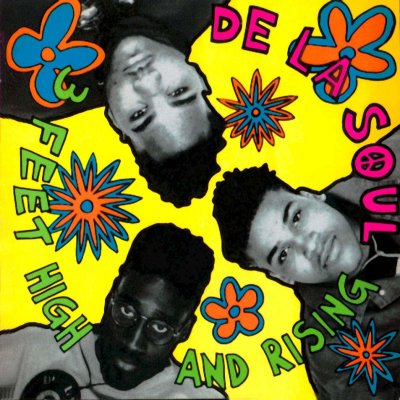 De La Soul consisted of three Long Island guys who hooked up in high school. They often refer to themselves as "Plug One," "Plug Two," and "Plug Three" because each of them always plugged his microphone into the same numbered jack when they performed.
The innocence and downright cuteness of the album may be primarily the result of the group's youth -- none of the three had turned 21 when the album was released.
Prince Paul
De La Soul's first three albums were produced by the legendary Prince Paul (real name: Paul Huston), a quirky genius who is behind some very interesting and very odd rap albums -- including
So . . . How's Your Girl?
, by Handsome Boy Modeling School (a conceptual hip hop duo consisting of Prince Paul and Japanese-American producer Daniel Nakamura, a/k/a "Dan the Automator"). We'll discuss Handsome Boy Modeling School in a future Hip Hop 101 class.
3 Feet High and Rising includes not only samples of James Brown, Public Enemy, and Parliament/Funkadelic, but also samples of Johnny Cash, Billy Joel, and the Turtles. "Eye Know" heavily samples Steely Dan's 1977 song, "Peg."
De La Soul's lyrics don't sound like anyone else's -- they sound like some private language. (I don't think this is a generation gap or black/white issue -- I doubt that most other rappers have a clue as to what De La Soul's rhymes mean.)
Let's take a closer look at the lines from "Eye Know" that are quoted above.
I've explained "Plug One" already. "D.A.I.S.Y." is an acronym for "Da inner sound, y'all." (Don't worry if you don't get that -- I don't get it either.) "In circumference to my voice" sounds pretty cool, but I'm guessing it signifies nothing.
"Jenny" is De La Soul's generic name for girls. ("Jimmy" is their generic name for boys -- often, De La Soul use "Jenny" and "Jimmy" as slang terms for the female and male sexual organs, respectively.)
A very different Jenny and Jimmy
With regard to the last two lines above, there's another song on this album called "Magic Number," which begins "Three/That's the magic number" -- referring to De La Soul's three members.
Here's another example of De La Soul's wacky wordplay from "Eye Know":
Forward march is the say
When transistors will play
Come into bed is the mood
Dolby sound
Will be then top crowned
When I put the needle into your groove
Give De La Soul a chance -- they'll grow on you if you do.
Here's "Eye Know":

Here's a cover version of the song performed by a ukelele-playing Irishman:




Here's a link you can use to order the song from Amazon: