When you're flying your flags
All my confidence sags,
You got me packing my bags
When I was a teenager, many of my friends and I each had a favorite band.
We all agreed that the Beatles were the best, but it wasn't considered good form to pick the Beatles as your favorite band -- that was sort of cheating. You needed a more personal favorite group to champion in discussions and debates with your fellow music fans. Once you picked a favorite, they "belonged" to you.
One of my friends identified Herman's Hermits as his favorite. That didn't work out very well for him in the long run.
I picked the Rolling Stones -- a much better choice, if I do say so myself. The partisans of the Who, and the Kinks, and the Beach Boys, and the Doors, and many other groups could also claim that their guys were the best, but I could make a good case for the Rolling Stones.
The Rolling Stones posing in front
of the Forth Bridge in Scotland
The first Stones album I owned was
December's Children
, their fifth American studio album, which was released in late 1965 (when I was 13.) About half its cuts weren't Jagger/Richards compositions, and it also included a couple of live cover. It wasn't really an album as much as it was a collection of songs.
In early 1966, the Stones released their first compilation album -- Big Hits (High Tide and Green Grass). It had all their early hit singles, including "Satisfaction," "Get Off Of My Cloud," "19th Nervous Breakdown," and so on.
I didn't buy the next studio album, Aftermath -- I'm not sure why. But I did get the next 10 studio albums (Between the Buttons, Their Satanic Majesties Request, Beggars Banquet, Let It Bleed, Sticky Fingers, Exile on Main St., Goats Head Soup, It's Only Rock 'n' Roll, Black and Blue, and Some Girls).
I think the Stones peaked with
Beggars Banquet
and
Let It Bleed
. Most people would say that
Exile on Main St.
was the Stones' last great album. It had some very good songs, but I thought it was very uneven.
There are several songs on Exile that I never warmed up to -- including the first single from the album, "Tumblin' Dice." I was very puzzled when I started hearing that song on the radio. It didn't do anything for me, and I couldn't for the life of me see why they picked it to release as a single. (Spin magazine ranked it as the third-best rock single of all time, which I don't get at all.)
Exile on Main St. was released in May 1972 -- just as my sophomore year in college was ending -- and it was certainly one of the most-played albums on my campus the next two years. "Soul Survivor" is the last song on this double album (which had 18 tracks altogether) and it's one of my favorites from Exile.
"Soul Survivor" uses a sailing voyage as a metaphor for a one-sided relationship. The "waters is rough" [sic] and "the sailing is tough" for the singer, who is "running right on the rocks." His lover "ain't giving [him] no quarter," and he'd "rather drink sea water" than finish out the voyage -- because she's "gonna be the death of me."
It's hard to imagine Mick Jagger's confidence flagging, or picture him "packing his bags" and surrendering without a fight, but that's what the song lyrics say.
(There's one particularly interesting line in this song: "I got the bell-bottom blues." I have to think it's a reference to the well-known Derek and the Dominoes song of the same name, which had been released a year or two earlier.)
I said above that I was pretty pleased with my choice of the Rolling Stones as my favorite group way back in 1965 or so. I'm not sure about that choice now. You can't deny the greatness of the LPs from the late 1960s, but I think the world could have done without their last six or eight studio albums.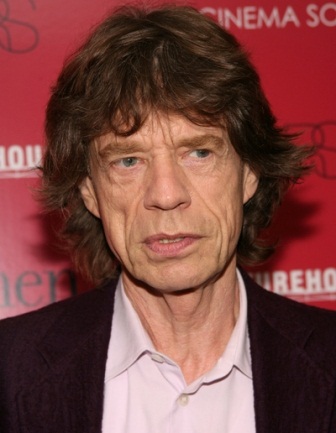 Mick Jagger today
I don't know exactly what it is that bothers me so much about seeing my favorite bands from the 1960s and 1970s still playing the same old songs to crowds of bald, fat baby boomers. The Rolling Stones are more guilty of that crime than just about anyone.
What do I expect them to do? Stop playing the old songs? (But the old songs are their best ones -- better that they keep flogging "Jumpin' Jack Flash" than the newer crap.) Just disappear? (If they still enjoy playing and are still capable of putting on a good show, shouldn't I admire them for continuing to perform rather than just staying at home and counting their millions?)
I don't know. My reaction isn't particularly reasonable.
There is another thing that bothers me about the Stones: Mick Jagger.
Charlie Watts and Bill Wyman were a great rhythm section -- they mostly kept their mouths shut and just played. Keith Richards is Keith Richards -- he never put on airs.
But there's something about Mick Jagger that strikes me as phony. I suspect he was always something of a poseur.
Jagger was from a solidly middle-class family, and attended the London School of Economics and Political Science -- one of the most selective universities in the UK.

Does that automatically disqualify him from being an authentic blues/rock singer and songwriter? Not really, but I still have a hard time believing that Jagger was the real thing. I bought his act hook, line, and sinker for many years, but I don't buy it any more. He's a little too cool for school.
Here's "Soul Survivor":




Here's a link you can use to buy the song from iTunes:
Here's a link you can use to buy it from Amazon: