So you been to school
For a year or two
And you know you've seen it all . . .
Play ethnicky jazz
To parade your snazz
On your five grand stereo
Braggin' that you know
How the niggers feel cold
And the slums got so much soul . . .
Well you'll work harder
With a gun in your back
For a bowl of rice a day
Slave for soldiers
Till you starve
Then your head is skewered on a stake . . .
It's a holiday in Cambodia
Where you'll do what you're told
A holiday in Cambodia
Where the slums got so much soul

Someone once said that the Dead Kennedys had only the 2nd-most tasteless punk band name -- that Sharon Tate's Baby (an Austin, Texas band that appears to still be performing) had outdone them. I have to agree.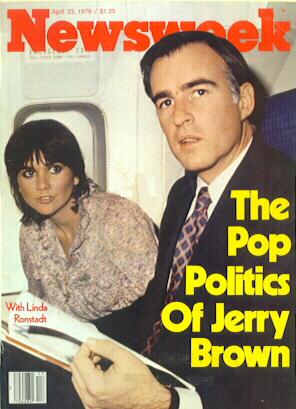 Jerry Brown in 1979
(with Linda Ronstadt)
The Dead Kennedys' first (and most successful) studio album was titled
Fresh Fruit for Rotting Vegetables
, which included not only this song but also "California Über Alles," which portrayed California governor Jerry Brown as a hippie neo-Hitler:
I am Governor Jerry Brown
My aura smiles
And never frowns
Soon I will be president . . .
Zen fascists will control you
100% natural
You will jog for the master race
And always wear the happy face . . .
Now it is 1984
Knock knock at your front door
It's the suede/denim secret police
They have come for your uncool niece
Die on organic poison gas
Serpent's egg's already hatched
You will croak, you little clown
When you mess with President Brown
Jerry Brown in 2010
Brown was re-elected to the California governor's job last November, 36 years after he was first elected to that office in 1974. (Truth is stranger than fiction, especially in California, boys and girls.) He came fairly close to winning the Democratic nomination for President in 1976 (losing to Jimmy Carter) and again in 1992 (when he finished 2nd to Bill Clinton), despite being perceived as a grade-A weirdo by a lot of people. (One newspaper columnist gave him the sobriquet "Governor Moonbeam.")
Here's "California Über Alles":
The Dead Kennedys' original frontman called himself Jello Biafra. Biafra (born Eric Reed Boucher) ran for mayor of San Francisco in 1979. His campaign slogan: "There's always room for Jello," of course.
Jello Biafra, circa 1980
Among other things, candidate Biafra proposed requiring businessmen to wear clown suits when within the city limits. There were nine mayoral candidates in the election, and Biafra finished third with about 6600 votes -- almost 4% of the votes cast.
Biafra has remained active in politics. In 2000, he sought the Green Party's presidential nomination. Biafra and another candidate finished tied for 2nd in delegate votes at the party's nominating convention, well behind nominee Ralph Nader. Biafra actively supported Nader's 2000, 2004, and 2008 campaigns.
I lived in San Francisco from late 1980 to early 1982. During that time, Biafra co-hosted a punk-rock show on the Pacifica radio station in Berkeley. I used to record the show, and still have a few dozen cassettes of those shows that I really should get converted to computer files and listen to -- I imagine there are many obscure punk-rock gems on those tapes.
"Holiday In Cambodia," which is my favorite Dead Kennedys song, musically skewers naive and spoiled 1980's-era students and liberals. Although such people were probably responsible for most of the Dead Kennedys' record sales, it sounds like Jello Biafra would have liked nothing better than to ship them all off to Pol Pot's Cambodia for a holiday.
A few of Pol Pot's two million-plus victims
Here's "Holiday In Cambodia." (The music is preceded by a brief scene from Apocalypse Now.)

Here's a live version of "Holiday In Cambodia" performed by the Foo Fighters and Serj Tankian of System of a Down:

That's pretty good, but it doesn't beat Jello Biafra and the Dead Kennedys doing the song live:
Here's a link you can use to order "Holiday In Cambodia" from iTunes:
Here's a link you can use if you prefer Amazon: