When lightning strikes you to the bone
You turn around, you're all alone
By the time you hear that silent sound
Then your soul is in the lost and found
Forever . . .


Rice University didn't offer a music major when I was a student there -- they offered only a music history course and a couple of music theory and composition classes. (I was born a few years too soon. Rice's Shepherd School of Music was created the year I graduated, and now is considered once of the top 10 music schools in the United States.
Here's a video of part of a student piano recital at the Shepherd School
last spring.)
You could say that the advanced theory and composition class I took as a senior had a very good student-teacher ratio. I was the only student in the class. Three times a week, I went to a small rehearsal room and met my professor for what were essentially private lessons in composing and arranging music.
Vintage McIntosh amp and preamp
My music class was at 11 am. I had a class at 9, but no class at 10. The music section of the university's library had several listening rooms with turntables, reel-to-reel tape players, and high-quality tube-type amplifiers. So I would head there after my 9 am class and listen to one of the reel-to-reel tapes while going over my composition homework -- finishing four-part harmonizations, or scoring my music for a string or wind ensemble.
The tape I asked the librarian for almost every day was Traffic's John Barleycorn Must Die. Because it was a reel-to-reel tape, I usually started at the beginning and listened straight through to the end without skipping or repeating tracks. It was the antithesis of the way I listen to music on my iPod today.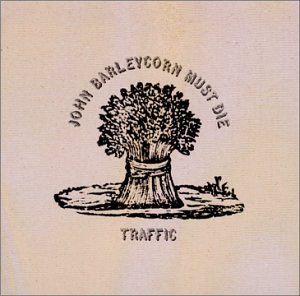 That record, which had been released in the summer of 1970, was originally planned as a Steve Winwood solo album. Winwood was a rock-and-roll prodigy. He was the frontman of the Spencer Davis Group when he was only 15, and was not quite 19 when Traffic was formed in 1967. After releasing two remarkable albums, Traffic broke up in 1969, and Winwood joined forces with Eric Clapton to form Blind Faith, which was perhaps the superest of all the "super groups" of that era. Blind Faith released one album and toured for about three months before it broke up.
After recording a couple of tracks for his solo album, Winwood decided to invite two of his old Traffic mates -- drummer and lyricist Jim Capaldi, and saxophone/flute player Chris Wood -- to join him. Winwood took care of everything else (lead vocals, guitar, bass guitar, piano, and Hammond organ).
"John Barleycorn" jug
The title song of the album is an English folk song, the earliest known version of which dates back to 1568. Beer and whiskey were made from barley, and the name "John Barleycorn" was used to personify those alcoholic beverages. The song describes the sowing and harvesting of barley and the post-harvest processing that turns barley into beer and whiskey as if it were telling the story of a man who is persecuted, tortured, and eventually killed -- e.g., "They've hired men with their scythes so sharp to cut him off at the knee."
Of course, John Barleycorn has the last laugh on his enemies, who are powerless to resist the allure of drink, which has the power to lay even the strongest man low.
A lot of other British groups recorded "John Barleycorn," including Pentangle, Steeleye Span, Jethro Tull, and Fairport Convention. The Fairport Convention version uses the same tune as the well-known Thanksgiving Hymn, "We Plough the Fields and Scatter":
"John Barleycorn" is my least favorite song on this Traffic album. It's clever, and it takes some time for you to see the punch line coming. But it's not a song that's very interesting or satisfying musically -- it's more of a novelty song, a one-trick pony.
I think the other tracks are very good, although I can't really explain why. Most of them are relatively long, with lengthy instrumental passages dominated by Winwood's Hammond organ. If I wasn't required by my own format to start each post off with a few lines of lyrics, I'd be tempted to feature the first track of the album, an instrumental titled "Glad."
Instead, I've featured the song that "Glad" leads right into, "Freedom Rider." The "Freedom Riders" were civil rights activists who rode Greyhound and Trailways buses through the South in defiance of local "Jim Crow" laws requiring segregation in bus station waiting rooms and cafes. Those laws had been held unconstitutional by the United States Supreme Court, at least to the extent that they applied to interstate travelers.
Freedom Riders M. L. King, Jr. and Ralph Abernathy
The lyrics of this song appear to have nothing to do with the anti-segregation "Freedom Riders." But I can't tell you what they do signify -- your guess is as good as mine.
Hammond B-3 organ
There's nary a guitar to be found on this track. Rather, the song alternates between short, transitional saxophone-and-piano bridges and longer passages that feature Chris Wood's inspired flute playing (which would be a lead guitar in most rock songs) and Winwood's dense, vibrato-heavy Hammond B-3 organ.
And, of course, there's Winwood's singing. His tenor voice is often husky in the lower registers but becomes pure and clear and piercing when he goes up the scale. It's a unique vocal instrument, but his style is distinctive as well.
I'm not wild about his post-Traffic music. Like Rod Stewart and Steve Miller, he put out a lot of crap in the 80's and 90's. But John Barleycorn Must Die was the culmination of a long and remarkably productive period -- and he was barely 22 when it was released.
Here's "Freedom Rider":
Use this link to order "Freedom Rider" from iTunes:
Here's a link to use if you prefer Amazon: