I'm so tired and I'm all alone.
We'll soon be together
That's it --
I'm comin' home to your love.
Delaney and Bonnie Bramlett recorded with Eric Clapton and a veritable "who's who" of other rock musicians, including George Harrison, Duane Allman, Dave Mason, Leon Russell, Rita Coolidge, Tina Turner, etc., etc., etc.
(The performers that appeared on "Shindig" included the Animals, the Beach Boys, the Beatles, Chuck Berry, James Brown, the Byrds -- and that leaves 24 more letters of the alphabet to go.) Delaney and Leon were tight after that -- Leon played on Delaney & Bonnie's first three albums.
Teri Garr in "Mr. Mom"
(By the way, that show's troupe of go-go dancers -- known as the Shindiggers -- included one Teri Garr, who also danced in the "T.A.M.I. Show" and several Elvis Presley movies. I LOVED her in Mr. Mom, where she more than held her own with Michael Keaton and Martin Mull. I thought Dustin Hoffman was an absolute moron for dumping her for Jessica Lange in Tootsie. She's much better looking than Lange, plus she seems like she'd be a lot less high-maintenance.)
Delaney & Bonnie's best-selling album, On Tour with Eric Clapton, was a live record. Most people believed that they weren't at their best in a recording studio -- that you really needed to see them live.
Eric Clapton (who said that Delaney taught him everything he knew about singing) started playing with Delaney and Bonnie when they were the opening act for Blind Faith's lone U.S. tour. Clapton wrote in his autobiography that "going on [with Blind Faith] after Delaney and Bonnie was really, really tough because I thought they were miles better than us." (We're talking
Blind Faith
here, boys and girls -- Eric Clapton and Stevie Winwood's super-supergroup -- they weren't exactly chopped liver.)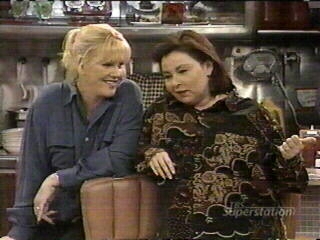 Bonnie with Roseanne Barr
Here's a random fact: Bonnie Bramlett appeared on about 20 episodes of the "Roseanne" TV show. In one episode, she sang with David Crosby, who played her husband on the show.
"Comin' Home" -- which was officially co-written by Bonnie Bramlett and Eric Clapton -- is my favorite Delaney & Bonnie song. (I've read that Delaney later said he wrote or co-wrote some of the songs that Bonnie was officially credited for -- he supposedly assigned her ownership of the songs to dodge the limitations of his recording contract.)
Delaney & Bonnie
The song has a complicated history. It was released as a single late in 1969, and a live version is on the On Tour with Eric Clapton album. It was included on Delaney & Bonnie's last album, D&B Together, which was released in 1972 -- just before they got divorced.

Delaney & Bonnie were actually under contract to Elektra Records when "Comin' Home" was originally recorded, but Elektra assigned the recordings to Atco/Atlantic Records, which released the song as a single. Atlantic wasn't happy with the quality of the new recordings for D&B Together, and sold Delaney & Bonnie's contract and the master tapes to Columbia Records, which eventually issued the album with three songs (including "Comin' Home") that had not appeared on any previous Delaney & Bonnie album.
"Comin Home" reminds me a lot of Fleetwood Mac's "Oh Well" -- you know, the song that says "Don't ask me what I think of you/I might not give the answer that you want me to" -- although it's less British and more Tulsa (despite the presence of Clapton and Harrison). Like that song, it starts of with a quick lead guitar line leading into a very catchy little hook, which both bands were smart enough to repeat over and over and over. The words are somewhat secondary to the riff in both songs.
Let's start with the single version:
Here's a video of "Comin' Home" being performed live. This is a very interesting video -- you get glimpses of Clapton and Harrison, not to mention drummer Jim Gordon and our old Tulsa friend, bassist Carl Radle. And then there's Bonnie -- check out the hair. She looks like a tall, skinny Little Orphan Annie (except much cuter).
Finally, here's the live version from On Tour with Eric Clapton:
Here's an iTunes link to the single version:
Here's an Amazon link to the live album version: