I'm sailor peg
And I've lost my leg
A-climbing up the topsails
I've lost my leg
I'm shipping up to Boston
To find my wooden leg
While we were vacationing on Cape Cod a couple of weeks ago, my kids and I drove to Boston for the day. My daughter, Caroline, is a graduate journalism student at Boston University, and has an apartment in Brookline, a close-in suburb just west of the city.
Red Sox fan
I went to law school just across the Charles River from Boston, and got to know it pretty well. I have a love-hate relationship with Boston. The "hate" part derives from two facts: (1) Boston is the home of the Red Sox and (2) Boston is full of obnoxious,ignorant, and often drunken Red Sox fans -- but I repeat myself. (Thank you, Mark Twain.)
Being a Red Sox fan is something that's passed down from father to son:
"Yankees SUCK!"
The Red Sox have a lot of female fans as well:
Only $9.95 a pair at any Fenway Park gift shop.
My son Peter and I dressed especially for our Boston visit -- me in a Yankees cap, Peter in a Los Angeles Lakers t-shirt.
Ready for a stroll through Boston
After parking at Caroline's apartment, we had lunch at the Coolidge Corner Clubhouse. Peter put his leftover pickle and onion to good use:
"Pickleman"

After lunch, we hopped on a Green Line trolley and rolled down Beacon Street.
Our destination was Boston's North End -- perhaps the most Italian neighborhood you can find outside of Italy.
North End cigar store
The North End may be best known as the home of the Old North Church, which was built in 1723 and was the place from which the "one if by land, two if by sea" signal was sent on April 18, 1775 -- the night of Paul Revere's famous ride.
"Listen my children, and you shall hear . . ."
From there, we walked to Quincy Marketplace, which is home of Exotic Flowers, the "Official Florist of the Boston Red Sox." How pathetic is it that a professional sports team would sell its name and logo to a
florist
for a few pieces of silver?
Real men don't have an "official florist."
Here's the statue that always-thirsty Red Sox fans erected to famous Boston brewer Sam Adams. (I can't drink Sam Adams -- as far as I'm concerned, it's Red-Sox-fan-only beer.)
Boston hero Sam Adams
After that, we headed to the Boston Common. This video shows
a wandering alphorn player
, the Park Street Church (built in 1810 -- the music you hear in the background is coming from this church), the gold-domed Massachusetts State House (built in 1798), and the Brewer Fountain (1868).
From there it was a short ride on the Green Line to Copley Square, home of the main branch of the Boston Public Library, the posh Copley Square Hotel, and the infamous John Hancock Tower -- it's the tallest building in New England, but
its opening was delayed for five years because its 4' x 11' glass windowpanes (which weight 500 pounds each) kept detaching from the building and falling to the sidewalk below on very windy days.
The deadliest building in America
The crown jewel of Copley Square is H. H. Richardson's extravagant Trinity Church (1872).
Trinity Church, Copley Square
But the real highlight of our Copley Square visit were the free "Extreme Screamin' Dill Pickle" chips the good people from Pringles were handing out for free. We grabbed as many as we could carry.
Pickle-flavored potato "chips" --
What will they think of next?
Unfortunately, there were Red Sox fans everywhere you looked.
Dull-normal Josh Beckett fan at Quincy
Marketplace --
too young to be a drunk yet,
but give him a few years.
T-shirts of mediocre, injured players are NOT cool
No doubt all of them love "I'm Shipping Up To Boston," which has become one of the team's unofficial anthems.
I first heard this song on the soundtrack of
The Departed
, the movie in which Martin Scorsese picks on the Irish instead of the Italians for a change.

"I'm Shipping Up To Boston" is a pretty good song -- probably the most successful "Celtic punk" song ever. The rest of the Dropkick Murphys' music is OK if you're drunk on your ass watching the Red Sox in a Boston sports bar.
As is probably obvious by now, I find most of the Red Sox players -- past and present -- loathesome. Former Red Sox star Manny Ramirez is the dumbest, laziest baseball player in history, while ex-Red Sox pitcher Pedro Martinez shows how courageous he is by beating up 70-year-old bench coaches. (His mother must be so proud of him.)
David Ortiz is another big dummy, and a steroid user to boot.
"Big Floppy" after yet another strikeout
Clay Buchholz broke into a school in his hometown when he was home from college and stole a couple of dozen laptop computers, but was never prosecuted for his crime.
(It's never too late if you ask me.)
Kevin Youkilis
Kevin Youkilis looks like an Aryan Nation member who's in prison for beating up a grandmother and stealing her Social Security check. (
Just about every chance he gets, Yankee pitcher Joba Chamberlain knocks Youkilis down with a pitch aimed at his ugly, bald head. There's nothing I enjoy more than seeing this
.)
Jason Varitek
Dustin Pedroia and Josh Beckett are mean, ugly little rednecks. Jason Varitek -- who's completely washed up now -- is a thug who shows his true colors by sucker-punching opposing players while wearing his catcher's mask and other protective equipment.
But worst of all is the Red Sox closer, Jonathan Papelbon, whose entry into home games -- as unspontaneous as any TV "reality" show you care to name -- is accompanied by "I'm Shipping Up To Boston" blaring on the Fenway Park PA system.
Papelbon is a silly little jerk. He thinks he's as good as Mariano Rivera, which is such a joke. Rivera's theme song, "Enter Sandman," is so much cooler than Papelbon's.
Papelbon has a room-temperature IQ -- his own general manager once said "He's not a Rhodes Scholar to begin with, obviously."
He thinks he can scare opposing batters by pulling his cap down low on his ape-like brow and staring fiercely in for his catcher's signal.
"Not a Rhodes Scholar, obviously"
To be fair, Papelbon is a pretty good dancer -- certainly a better dancer than teammate Kevin Youkilis.
The Yankees own Papelbon. Everyone from Alex Rodriguez to Brett Gardner has touched him up.
Here's Marcus Thames hitting a first-pitch walk-off home run against Papelbon earlier this year.
But the ladies of Boston love Papelbon, it seems. Here's a typical Papelbon-admiring young lovely. (Maybe she should switch to "lite" beer and lay off the pasta a little.)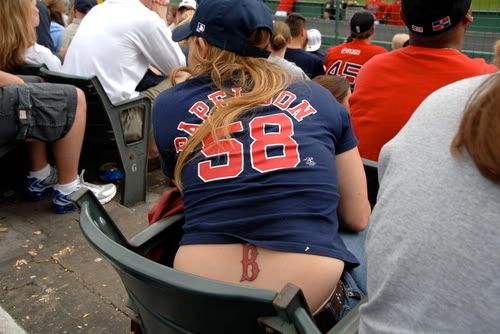 "Does this tattoo make my ass look fat?"
"No -- your fat ass makes your ass look fat!"
Here's "I'm Shipping Off To Boston":

Click here if you would like to buy the song from iTunes:

Click here if you would like to buy it from Amazon.