I wound it up to a hundred and ten
Twisted the speedometer cable off the end
Had my foot feed clear to the floor
That's all there is -- there ain't no more
When I was a freshman at Rice University in 1970-71, I thought the campus radio station was amazing.
After all, I was used to listening to AM radio in my hometown of Joplin, Missouri -- where the coolest top 40 station refused to play Beatles records after John Lennon had observed that they were "more popular than Jesus."
The Rice station -- the call letters were KTRU -- was programmed entirely by students, and they played some pretty crazy stuff. (I'm guessing a number of the student DJs were serious drug users, which was nothing very remarkable in those days.) I remember being shocked five years later to hear one of the KTRU DJs doing a very professional job as the morning drive-time DJ on a popular St. Louis FM station.
KTRU's programming was disseminated using a technology called "carrier current," which uses electrical wiring to propagate AM radio transmissions. Carrier current transmitters are low-powered and relatively cheap, so the technology was commonly used by college and other noncommercial stations.
Your radio didn't have to be plugged up to pick up the station, but you had to be fairly close to the campus electricity grid -- once you left the Rice campus, you left KTRU as well.
One night I was listening to KTRU when the DJ was giving away promotional copies of records that the station didn't want to people who called in with the correct answers to trivia questions. I have no idea what question I answered, but I won a copy of "The Best of Johnny Bond."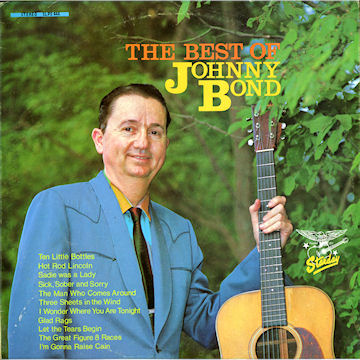 I had never heard of Bond, but I loved his multicolored shirt, which really emphasized his turkey neck. Johnny was a pretty handsome guy when he was young, but this photograph was taken when he was a few years past his prime.
Bond's real name was Cyrus Whitfield Bond. He was born in 1915 in the tiny Oklahoma community of Enville (which is supposedly a contraction of "End of the Road Ville"), headed west where he performed in a few movies with singing cowboys like Gene Autry, and became a country music star in 1947, when he released "Divorce Me C.O.D." and two other top 10 singles.
Most of Johnny's best-known songs are either about cars or about getting drunk. Actually nearly all of them are about getting drunk. There was "Sick, Sober, and Sorry," "Three Sheets in the Wind," "Here Come the Elephants," and his biggest hit, "Ten Little Bottles."
His album titles included "Bottles Up," "Ten Nights in a Barroom," and "Drink Up and Go Home." The guy had kind of a one-track mind.
"Hot Rod Lincoln" was actually a hit on the pop charts, not the country charts. It was first recorded in 1955 by one of its authors, Charlie Ryan, and was an answer song to a 1951 hit, "Hot Rod Race." The guy who recorded "Hot Rod Race" also recorded several sequels to that song himself, and a bunch of other guys put out hot rod songs that were more or less inspired by it.
Here's a link to a history of the whole phenomenon from the Rockabilly Hall of Fame website.
I actually owned another record with "Hot Rod Lincoln" on it -- Commander Cody and His Lost Planet Airmen recorded the song in 1972.
Like most songs about street racing -- "Maybelline" and "Dead Man's Curve" are other examples -- "Hot Rod Lincoln" was probably looked down on by true aficiondos of automobiles and automobile racing. Even I knew that these songs weren't terribly authentic and I wasn't a car expert by any means, although I did read quite a few hot rod magazines before I discovered other magazines of a somewhat more interactive nature.
One final note: "foot feed" is an archaic term for the accelerator pedal (which feeds gas to the engine when you push your foot down on it). That's what my mother used to call the accelerator when I was learning to drive.
Here's Johnny Bond's version of "Hot Rod Lincoln":



Here's Commander Cody's version:
Click here to buy the song from Amazon: