Soft hair and a velvet tongue
I wanna give you what you give to me
And every breath that is in your lungs
Is a tiny little gift to me
After leaving the fish pier, I rode south on Shore Road. I passed the very pricey Chatham Bars Inn and some very pricey private homes. Here's an example:
Not all the houses in Chatham look like that -- there are a number of classic "full Cape" cottages:
I think of Chatham as being the fanciest town on Cape Cod. It has a very upscale little shopping area that is usually thronged with tourists.
One of the most popular shops is the Black Dog General Store -- you see Black Dog hoodies, caps, and canvas tote bags everywhere.
The Black Dog Tavern, which claims to be the oldest year-round restaurant on Martha's Vineyard, opened for business on New Year's Day, 1971.
Black Dog Tavern
The cooks in the open kitchen of the Black Dog wore simple T-shirts with a picture of the owner's black dog on it, and pretty soon the restaurant was making as much money selling T-shirts as it made selling clam chowder.
Today there are 19 Black Dog stores in the northeast, including nine on Martha's Vineyard and four more on Cape Cod.
There are plenty of upscale restaurants in Chatham. Many have cutesy, precious names -- none more cutesy and precious than the Impudent Oyster: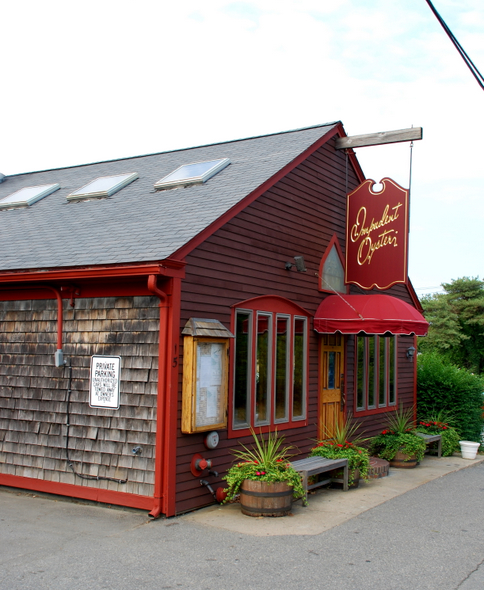 The Impudent Oyster
Continuing south on Main Street away from the shopping area, I noticed this little grocery store. (You'd have to be Ray Charles not to notice it.)
A few blocks later, I came upon the old Chatham Light:
Across Main Street from the lighthouse is a beautiful wide beach:
"Dead Leaves and the Dirty Ground" is the first track on the third White Stripes album, White Blood Cells, which was released a little over 10 years ago. I could be wrong on this, but I've got to think that telling a woman that "Every breath that is in your lungs/Is a tiny little gift to me" is going to work 99 times out of a 100.
That music video was directed by Michael Gondry, a Frenchman who's directed movies ("Eternal Sunshine of the Spotless Mind" among others), music videos (for everyone from Björk to the Foo Fighters to Kanye West), and TV commercials (his 1998 Smirnoff vodka commercial features his "bullet time" technique, which was later used in The Matrix).
Click here to order this song from Amazon: