I came home to a city half erased
I came home to face what we faced
This place needs me here to start
This place is the beat of my heart
Oh my heart, oh my heart, oh my heart
This song was written about New Orleans, which suffered enormously from Hurricane Katrina. But tonight this song is also about a smaller and much less well-known city that is reeling, "half erased," from an equally devastating natural disaster.
I spent the first 18 years of my life in Joplin, Missouri, and my parents still live there. My friend Linda -- the author of this post -- also grew up there, and her mother still resides there as well. She and I and many of our other childhood friends returned to Joplin for our 40th high-school reunion last summer, joining with those who had chosen to stay in the area.
It was a poignant and wonderful weekend, and I think it affected many of us more deeply than we anticipated. I don't know exactly why that should have been, but I know that it is so.
I'm writing this only about 24 hours after a tornado wreaked an astonishing amount of damage on our defenseless hometown. The only thing that was more remarkable than the power of the storm was its arbitrariness.
The German author and philosopher Goethe wrote the following words about nature generally, but they describe the tornado that laid Joplin low much better than anything I could come up with:
Nature! . . . Without asking, or warning, she snatches us up into her circling dance, and whirls us on until we are tired, and drop from her arms. . . . We live in her midst and know her not. She is incessantly speaking to us, but betrays not her secret. . . . She changes for ever and ever, and rests not a moment. Quietude is inconceivable to her, and she has laid her curse upon rest. She is firm. Her steps are measured, her exceptions rare, her laws unchangeable.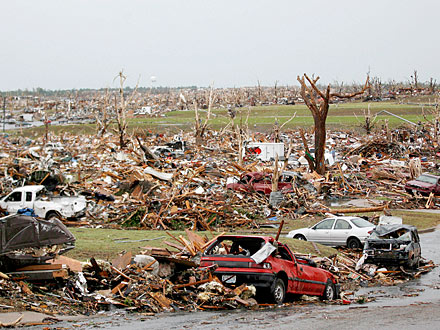 I asked Linda to write this post after she told me about her recent trip to New Orleans to see her son graduate from Tulane Law School. I could tell from her e-mails how strongly the experience had affected her.
She was deservedly proud of her son's accomplishment -- and, I hope, equally proud of her accomplishment as a mother. But at the same time, she was saying goodbye to her first child. He was not only fully an adult now, but had also chosen to move far away from her to begin his career.
As parents, our job is to prepare our children to be adults. There can be no greater satisfaction for a parent than to see his or her child make a successful transition to independence and self-sufficiency. At the same time, it is almost unbearably sad to have to let our children go.
For Linda, her memories of her son and the city where he attended law school will always be inextricably entwined. I know how she feels. I may not ever go back to the cities where my children went to college, but I will always remember them vividly as the places where my children metamorphosed into something wonderful but something very different.
Linda sent me this post just the day before the tornado struck Joplin. That event has given this song and Linda's words an additional layer of meaning for us and our Joplin friends.
But at its heart, this post really about a mother, her child, and a place that will always have a very special meaning for her because something very special happened to that child while he was there.
Linda's previous posts have been terrific, and she has delivered once more. Time for me to shut up and turn 2 or 3 lines over to her:
I would like to thank our Editor-in-Chief of 2 or 3 lines for allowing me to use his blog as a forum for a very personal and completely self-indulgent "Love Letter & Farewell" to both the city of New Orleans and to my firstborn.
My husband and I have been to New Orleans (which we usually refer to as "NOLA") eight times in the past three years. Our son was in law school at Tulane University, so we had a built-in reason to visit this beautiful city. Our most recent trip there was for his graduation, so there was a great poignancy in being there this time.
The flooded 8th Ward of NOLA
When most people think of NOLA, Hurricane Katrina is the first thing that comes to mind. It was a terrible tragedy in terms of loss of lives and livelihoods and destruction of property. Nearly six years later you can still see the results of its effects – abandoned homes with no windows and roofs blown away, houses and other buildings spray-painted with codes for utility workers (so they knew when they returned at which places the gas and electricity had been already been turned off).
Yet none of that really defines the essence of NOLA. No matter what time of the day or night, the French Quarter has a vibrant party atmosphere. There are street musicians sharing the sidewalks with street preachers. In Jackson Square, you can see cross-dressing men (in full make-up and stiletto heels), fortune tellers, and local artists with their paintings displayed for sale.
Bourbon Street is an entity all to itself. Larry Flynt's Hustler Club is just a few doors away from some of the best and most traditional Creole restaurants.
"Home of the Hustler Honeys"
Drinking alcohol as you stroll down the street is perfectly legal. Before our first visit, my son (already a veteran of several trips to the Quarter), warned me not to wear open-toed shoes on Bourbon Street. The possibilities of what you might step in are very unappealing to say the least!
A drink called the "Hand Grenade" seems to be the libation of choice for many college students and tourists. You see a lot of people walking around carrying long plastic tubes filled with fluorescent green liquid. I sampled this concoction once, but only once – Everclear (190 proof grain alcohol) is its main ingredient, mixed with some deceptively sweet and innocent-tasting fruit juices and drink mix.
Sipping on a Hand Grenade
The cracked and uneven sidewalks of Bourbon Street filled with thousands of people are difficult to get around on under the best of circumstances. Add a snootful of Everclear to the equation and . . . let's just say I was lucky to get back to our hotel without breaking an ankle or a hip. (My son loved to warn me about breaking ahip as a way of taunting me about my advanced age).
Shrimp po'boy
No discussion of NOLA would be complete without talking about the food. In the past three years, I have never had a bad meal or a rude server there. It's truly a paradise for seafood lovers. The shrimp and oysters always taste like they have just come straight from the fisherman's boat. Whether you have a shrimp po'boy and a bowl of gumbo at a hole-in-the-wall dive, or an elegant dinner at a charming, old French Quarter restaurant, you can't go too far wrong with a meal in NOLA.
And we certainly didn't go wrong choosing Muriel's Bistro for our farewell NOLA dinner:
It's sweet and it's sad and it's true
How it doesn't look bitter on you.
Those lines from "Oh My Heart" certainly describes most of the locals we've interacted with there. Tourism is a large part of NOLA's economy and it took a huge hit after Katrina. The staffs at hotels and restaurants are genuinely glad to have you in their establishment. You hear very little bitterness when they talk about how the city suffered after the hurricane, especially at the hands of inept politicians who squandered or stole much of the relief money – just gratitude for the people who have started visiting their city and spending much-needed money there again.
The choice of song for this post was an easy one for me. I've been an ardent (some might say obsessive) fan of R.E.M. for many years. This song is off their most recent album "Collapse Into Now," much of which was recorded in NOLA not far from the French Quarter. In fact, they were in the studio during one of our trips there. I tried to get my son to drive me past the studio, but I think he considered that a little too stalkerish.
R.E.M. at the Music Shed recording studio in NOLA
R.E.M.'s guitarist, Peter Buck, once owned a home in the NOLA's Garden District. The band has recorded parts of other albums there in the past, so they evidently have a continuing emotional tie to the city.
A Garden District home
"Oh My Heart" is by no means even close to being one of my favorite R.E.M. songs. But for me, it evokes the spirit of the people there and the city itself. New Orleanians have lived through a massive hurricane and the BP oil spill within a five-year period. Some the residents did throw in the towel and move away permanently, but many came back and rebuilt and carried on with their lives, unwilling or unable to let go of their beautiful city.
On a more personal level, R.E.M. was the last concert my son and I attended together. He begrudgingly went with me, but afterwards commented, "They rock pretty hard for old guys."
High praise from an 18-year-old who, at the time, was heavily into the hardest of rock music. After living in the deep South for 3 years and hanging out with new friends who are mostly good ol' boys from Georgia, he has gone over to the other side and now listens almost exclusively to country music. Go figure!
NOLA street musician Doreen Ketchens
On the way to the airport, when we were leaving NOLA the day after graduation, I tried hard to hold myself together.
But my son is moving to New York City. I get
verklempt
all over again just writing those words.
His long-time girlfriend, whom he met at the very beginning of law school, is from there and that's where they decided they would live. His girlfriend is a beautiful, intelligent and charming young woman whom we adore and I know he would likely follow her to the ends of the earth if she asked. Which is exactly how it should be when two people are young and in love.
Any parent who has ever had to say good-bye to a child who is leaving home will understand and sympathize with my mixed emotions about his move to the Northeast. I'm so excited and unbelievably proud to know that he has accomplished some huge goals and is ready to go out and conquer the world.
Still, no matter how old they are or how happy you are for them, when they leave home, a big piece of your heart goes with them. Good luck, Alex – knock 'em dead in New York. The Big Apple's gain is the Big Easy's (and your mom's!) loss.
Alex and Linda
Good luck to Alex, and thanks to his mother for yet again contributing a wonderful piece of writing to
2 or 3 lines
. But more importantly, best wishes to everyone who lives in Joplin or has loved ones there.
Our city has indeed been "half erased," and I don't envy those who have to rebuild it. Their strength and their patience will be sorely tested over the upcoming weeks, months, and years.
Here's a live version of R.E.M.'s "Oh My Heart":