I'm goin' down
Down, down, down, down, down
"2 or 3 lines" doesn't have HBO. What's the point of paying all that money when you can get the HBO shows on DVD at the library? (Yes, maybe you have to wait a couple of years, but why is everybody in such a big hurry anyway?)
So until very recently, I had never heard of the HBO series,
Eastbound & Down
-- which tells the story of Kenny powers, a loutish ex-major league pitcher who returns to his hometown to teach phys ed after his baseball career peters out. (It seems he lost a few MPH off his fast ball when he had to stop using steroids.)
It is a jaw-droppingly tasteless show, exactly the kind of show that a 16-year-old boy should not be watching but will find absolutely fascinating if his irresponsible older brother gives him the first season of the show on DVD for Christmas and his irresponsible father doesn't do anything about it, which is sort of what happened at my house.
The washed-up pitcher is played by Danny McBride, whom you may remember from Pineapple Express and Tropic Thunder. His character has a drinking problem, and an anger management problem, and very politically incorrect attitudes about women, and a truly magnificent mullet. I have the feeling that the role was not exactly a stretch for McBride.

Here are a few highlights from the first season of Eastbound & Down:


When I heard the brief snippet of Freddie King's "Going Down" that is played during the opening sequence of each episode of Eastbound & Down, it sounded very familiar -- I instantly started singing "down, down, down, down, down."
I assumed the song was fairly recent -- something I had heard on the local hard-rock radio stations five or ten years ago.
But after doing a little research, I learned that it was performed by Freddie King -- a/k/a "The Texas Cannonball" -- an African-American blues guitarist and singer who had recorded it in 1971 (only five years before he died at the age of 42).
"Going Down" appears on King's Getting Ready album, his first album for Shelter Records, which was a record label that was started in 1969 by our old friend, Leon Russell. The label flew King to Chicago so he could record the album at the legendary Chess Records studios. (Chess was the label of blues and R&B legends like Chuck Berry, Bo Diddley, Buddy Guy, Howlin' Wolf, John Lee Hooker, and Memphis Slim.) Leon himself played piano on the record.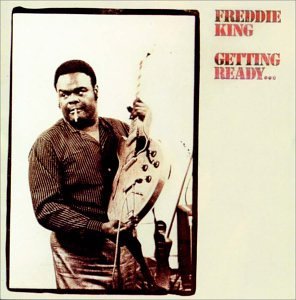 Freddie King

"Going Down" (or "Goin' Down") was written by Don Nix, a session musician, songwriter, and record producer who was a key figure in the history of Stax Records and Memphis-style soul music.
George Harrison and Don Nix
King's style has been described as a combination of Texas-style blues and Chicago-style blues. Throw in Don Nix and Leon Russell and you've added elements of Memphis soul and the "Tulsa Sound" to the mix.
It's possible I remembered "Going Down" from hearing it on the radio back in 1971. It apparently got a fair amount of radio play when it was released, and would have been a natural for the AOR radio stations in Houston when I was in college.
On the other hand, the song has been covered by Jeff Beck, Deep Purple, J. J. Cale, and many others -- maybe I heard one of the covers.


King's version of the song has been described by one reviewer as "a stone-cold beast of a song that fits King's stature: with hammering piano parts, two drummers, greasy guitar playing and roaring vocals, it's the closest he ever got to hard rock and to white blues-rock. It is so goddamn powerful, so massive."
That is exactly right. If I was at party 30 years and had been drinking, and someone had put this record on, I would have sung along at the top of my lungs and air-guitared myself half to death.
Here's Freddie King doing "Going Down":


Here's a link you can use to buy the song on iTunes:


Here's a link you can use if you prefer Amazon: